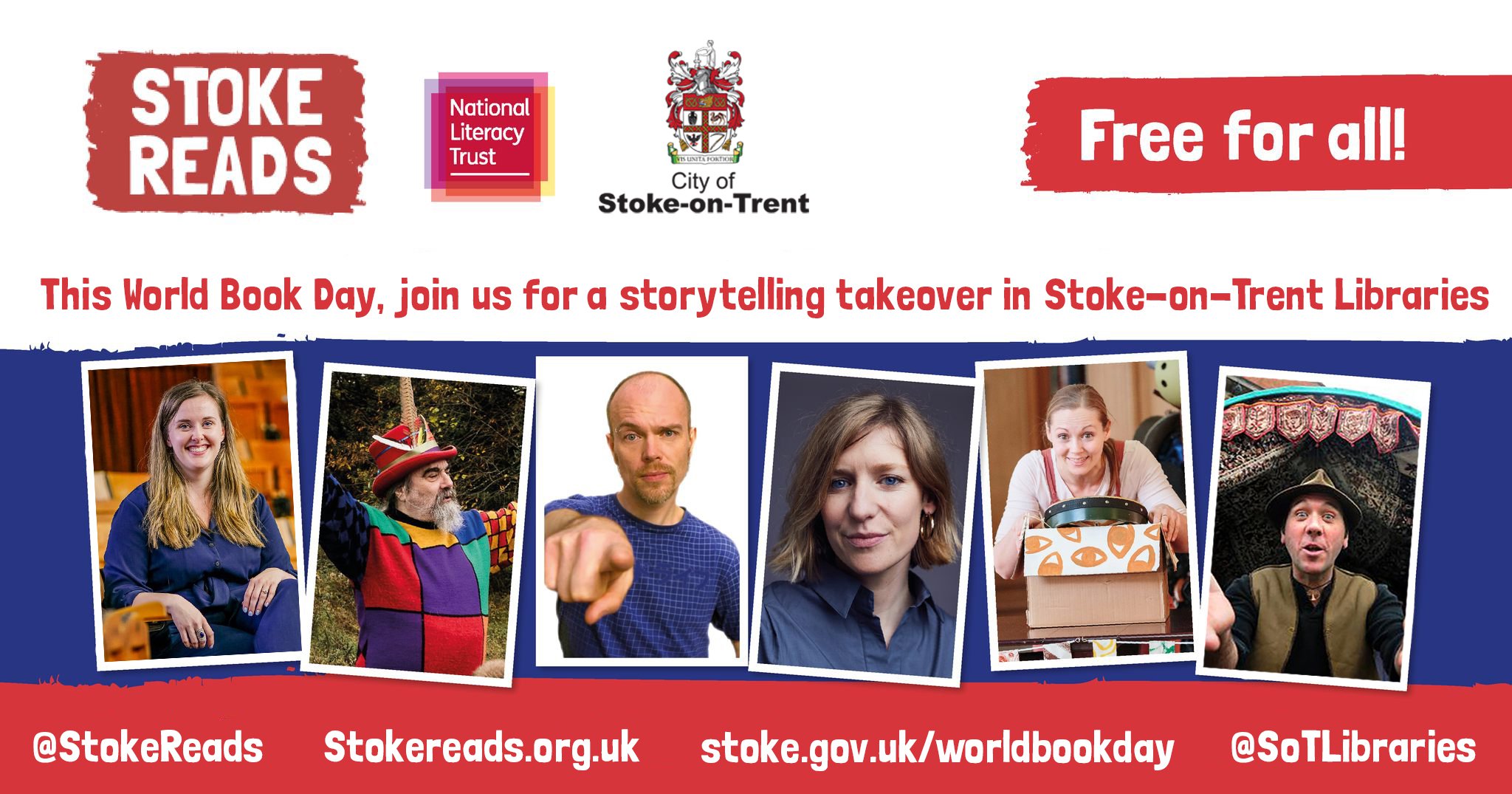 Join us on Saturday 4 March and enjoy a fun-filled session with an expert storyteller. Your child will also receive a FREE World Book Day book to take home and keep. To book your place, get in touch with your local library by phone or email.
Storytelling sessions
Alan Barratt: City Central Library
Alan Barrett brings stories to life with his interactive, fun filled storytelling. With his repertoire of his own as well as traditional tales, there's something for all ages and abilities to enjoy.
Kat Hughes: Bentilee Library
Kat is a producer and director from the border between Stoke-on-Trent and Cheshire. She has spent the last the last decade working with communities in The Midlands and North West.
Dominic Berry: Stoke Library
Dominic Berry is an award-winning poet. He was 2017 Glastonbury Festival Poet in Residence, winner of the 2020 and 2017 Saboteur 'Best Spoken Word Artist' award, and has toured his verse across the world. He's quick thinking and an expert at improvising, speedily crafting rhythmic verse that incorporates all that children throw at him!
His poetic tales always incorporate a moral, such as the environment, bullying, animal welfare and working together as a team.
Jenny Morgan: Tunstall Library
Jenny is a theatre maker and storyteller from Manchester. She has performed her solo comedy and storytelling shows around the UK and Australia and runs workshops in storytelling for children and adults.
Sophia Hatfield: Longton Library
Sophia is an award-winning actor and musician, with extensive experience making and performing theatre and storytelling for children, and over 10 years' experience working as a touring actor and musician across the UK.
Soph has worked alongside leading theatre companies all over the UK and also runs Stute Theatre CIC. Her 2018 library show 'Common Lore' was awarded Breakthrough Performance of the Year at the National Rural Touring Awards, and her show 'Just Soph' has been seen by over 4000 children.
Ian Douglas: Meir Library
Ian Douglas is a Storyteller and Theatre Maker Who works extensively across the British Isles. With over 20 years of experience delivering storytelling, performance and theatre activities for schools, arts organisations, communities and festivals across Britain, he has developed a practise approach which mixes sensitivity, comic energy and wit leading to a style all of his own.
Further activities
If you're unable to attend these events, the National Literacy Trust have a host of online activities for families to get involved with. Find out more on this webpage.