Aunt Pythia's Peculiar Pet: Write your own Halloween story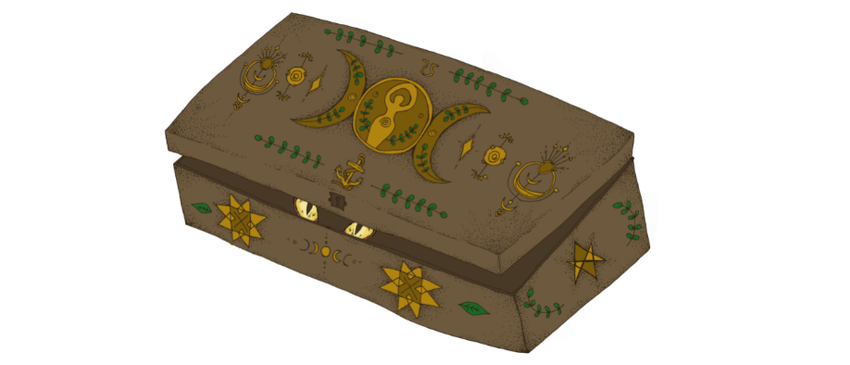 A five day Halloween writing adventure!
Redcar-based writer, Carmen Marcus, invites children on a magical Halloween writing adventure to create their own story about a peculiar pet over the course of five days...
Every time a big package is delivered to your home it's so annoying to find that it's just another boring thing for your parents. But what if one day a package arrives for you and it's definitely not boring, it's covered in strange stamps and there seems to be a faint rustling and snorting coming from inside it?
So, you tear off the cardboard and there is an even stranger box, covered in odd symbols. There's a letter too, explaining that your long lost great-great-great-grand Aunt Pythia has sent you something very precious to take care of. So, you open the strange box and a great big pair of eyes stare back at you. Meet your new familiar. A familiar is a magical pet, only for witches and wizards.
In this five day Halloween writing adventure created by writer Carmen Marcus, you'll have the chance to create and train your own familiar, discover its special powers and travel with it to the shadow lands.
Get paper, pens and pencils at the ready and join us here from October 24 for five days of magical writing prompts that will see you create your own Halloween story. A different creative task will be uploaded to this page each day!
Enter the competition!
We'd love for you to take part in all five days of Aunt Pythia's challenges, but you can also focus on just one or two if you wish.
Once you have completed your pet description, magic spell or your map of the shadow world, please send your work to readnortheast@literacytrust.org.uk for a chance to be featured on our website! We'll be asking Aunt Pythia to pick her favourite responses to each of the challenges, with those selected receiving a bundle of free books!
The best entry into the map of the shadow world challenge will see their drawing turned into a professional illustration by the brilliant Lizzie Lovejoy @Lizzie_Lovejoy_illustration
You have until 15th November to submit your work, so you can use Halloween for some extra spooky inspiration!
(This activity is aimed at young people aged 9 to 12-years-old and has been designed for young people to take part in alone or with the support of their parents or carers.)
Follow us over on Facebook at Read North East for more exciting announcements.
---
Day 2: The Observation Diary
Click here to complete day 2 of the Halloween writing challenge!
Enter Day 2
About Carmen Marcus
Carmen Marcus is a published author, poet, creative facilitator, and mentor. As the daughter of a Yorkshire fisherman and Irish chef her writing brings together the practical and the magical.
Her debut novel HOW SAINTS DIE was published by Vintage in 2018, it won New Writing North's Northern Promise Award and was long listed for the Desmond Elliott Prize. Daisy Johnson describes it as a 'glorious, beautiful sea shanty of a book.' Her poetry has been commissioned by BBC Radio, The Royal Festival Hall, Durham Book Festival and Apples and Snakes.
She was named as a BBC Verb New Voice 2015. In August 2022 she was chosen as one of the Writer's Guild of Great Britain's recipients of the New Play Commission Scheme with her debut full length play AND THE EARTH OPENED UP UNDER HER.
She regularly runs writing workshops on subjects that range from creating dangerously to mythic underworlds. She has been a guest lecturer at the Universities of Leicester, Northumbria and Teesside and has been invited to speak by Penguin Random House and the Northern Writers' Conference.
Having made the journey from council estate to the bookshelves Carmen is dedicated to supporting working class writers to tell their stories.
Carmen is currently working on a poetry collection entitled THE SKIN BOAT, which explores her relationship with the sea and her fishing heritage. She will begin her PHD with Teesside University this autumn on Questions of Space, Place and Belonging.
She strives in her work to live up to the words of her first and most influential critic, her primary school teacher, 'weird, minus one house-point.'
Follow her on Twitter at @kalamene