Shadow Worlds
Welcome to Day 3 of Aunt Pythia's Peculiar Pet: Write your own Halloween story.
In the third episode of Aunt Pythia's Peculiar Pet, Dr Nightfowl tells you about your creature's ability to move between worlds! On discovering this, you can't resist following your creature into the portal and going on adventure.
For this task, you must create a detailed map of where your creature takes you. Like the one in the image. Where do you pass in these shadowy lands? Are there other creatures or animals? Are there trees or vegetation? Maybe the buildings are upside down or sky is purple. Anything is possible...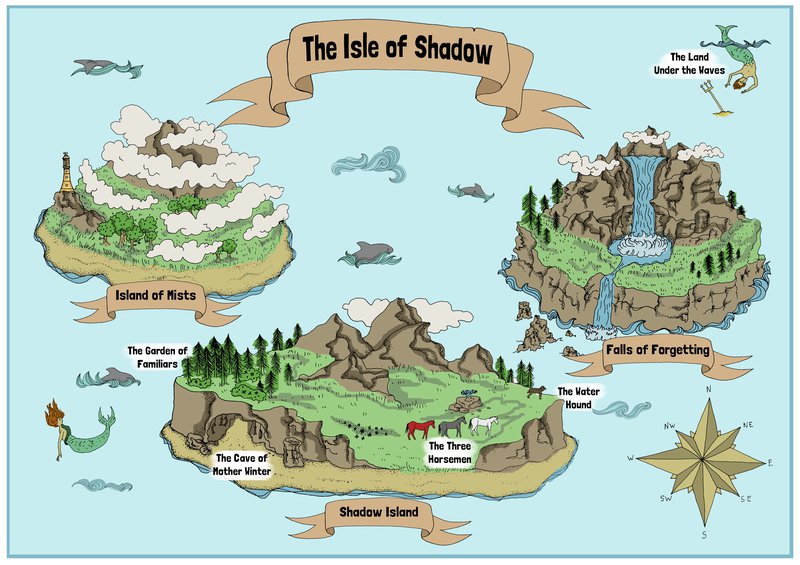 ---
Thank you for taking part in Aunt Pythia's Peculiar Pet Halloween Activities. We'd love for you to take part in all of Aunt Pythia's challenges, but you can also focus on just one or two if you wish.
Share Your Challenges!
Once you have completed your Familiar diagram, Observation Diary, Map of the Shadow Lands, your Familiar Binding Spell or your adventures using Familiar Sight - please send your work to readnortheast@literacytrust.org.uk for a chance to be featured on our website!
We'll be asking Aunt Pythia to pick her favourite responses to each of the challenges, with those selected receiving a bundle of free books!
Competition!
The best entry into the map of the shadow world challenge will see their drawing turned into a professional illustration by the brilliant Lizzie Lovejoy (instagram: @Lizzie_Lovejoy_illustration). You have until 15th November to submit your work, so you can use Halloween for some extra spooky inspiration!