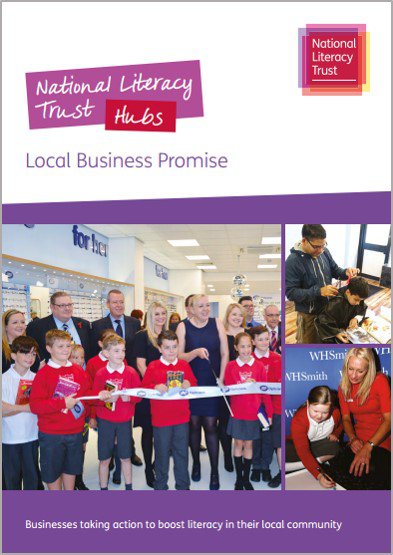 In the country's most deprived areas, more than a third of adults lack the literacy expected of an 11-year-old. This undermines their well-being and stops them making a full contribution to the economic and cultural life of our nation. Whilst poor literacy is a national problem, every community needs local solutions

We know that local businesses can play a big part in raising local literacy levels because they have the resources, reach and local knowledge to make a real impact.  
That's why our National Literacy Trust Hubs, which use local energy to tackle local literacy problems, are launching local area promises.

If you're a business based in the following places who would like to find out more about making your own local business promise, get in touch for more information:

Bradford

Manchester

Middlesbrough

Peterborough
Stoke-on-Trent 
Get involved
You could:
Raise the profile of literacy in the workplace by training your staff to be aware of literacy issues in the workplace and by sharing literacy updates with staff

Engage employees as parents by helping them understand how they can support their child's literacy

Sponsor schools and literacy programmes and promote volunteering and fundraising opportunities 

Get involved in local campaigns; examples could include barbers reading with children, book gifting initiatives or campaigns in neo-natal wards
Why should local businesses get involved?

Getting involved in the literacy campaign in your area will position you at the forefront of businesses taking action on this important issue.

Other benefits include:
Creating a positive, local impact and build your corporate reputation, brand value and trust

Brand exposure and inclusion in positive PR

Employee engagement opportunities to increase staff satisfaction

A chance to join a national business network committed to raising UK literacy levels through the Vision for Literacy Business Pledge.
Find out more about our local area promises by emailing
hubs@literacytrust.org.uk
.