Last autumn, children, families and schools across Doncaster were called on to read, write and take action around important environmental issues during the Great Green Read.
Over 400 people entered the competition, capturing their ideas on how to improve the world we live in via letters, essays, leaflets and posters. They were judged by Doncaster Stories, the local campaign from the National Literacy Trust, and members of the Rotary Club.
The overall winner was 10 year old Selena Simelevic, from Saltersgate Junior School. She has won £750 towards developing her school's outdoor Eco Zone, along with a large bundle of books for her to keep.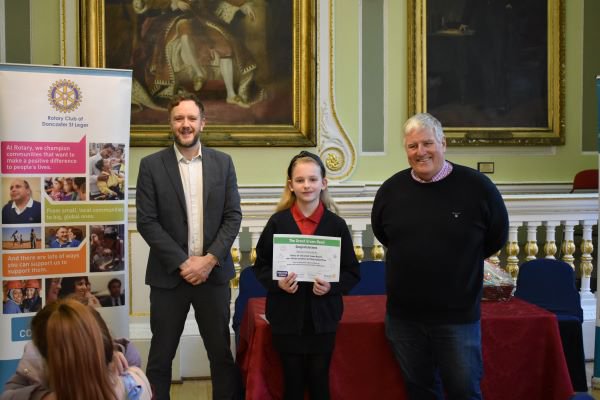 Selena, with Doncaster Stories Hub Manager, Phil Sheppard, and Phillip Wilbourn, Rotary District Environmental Lead
Selena wrote a persuasive essay about the balance between humans and nature, and the importance of living in harmony with the world around us. Her entry asked important questions such as: How can we protect the environment in our daily life? What happens if we don't protect the environment? You can view Selena's winning entry here.
Running from September to December, the Great Green Read explored eco-projects, creative writing challenges and author events including with award-winning sisters Amy and Ella Meek who founded the charity Kids Against Plastic and authored the book Be Climate Clever. Participants learned how to write persuasively about the environment and how to use their literacy skills to become change-makers in the local community.
Phil Sheppard, Doncaster Stories Hub Manager, said, "We hope that by taking part in the Great Green Read our local young people have learned how they can use their reading, writing, speaking and listening skills to persuade others and change the world around them. There were so many inspiring entries and it's clear to see that Doncaster is full of young people who want to make a difference."
Phillip Wilbourn, Rotary District Environmental Lead, said, "This inspirational project has yielded a valuable insight into how young people at an early age are already worried about the world in which we live. Society would do well to listen to their concerns. Selena's entry had a message for all of us: In the next few decades, we need to do something unprecedented to achieve a sustainable existence on earth. But how do we do it?"
The Great Green Read runners up were: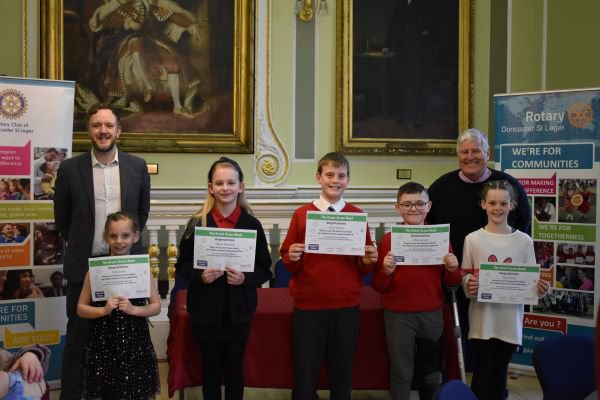 (L-R) Phil Sheppard, Sofia Barker, Selena Simelevic, Jacob Hughes, Ethan Jackson, Phillip Wilbourn, Daisy Parkin.
On Monday 20 March, Doncaster Stories and the Rotary Club presented Selena and the rest of the runners up for the Great Green Read with their certificates at a special ceremony hosted at the Mansion House.
Doncaster's Great Green Read will return in Autumn 2023. To stay up to date and for more details, check out Doncaster Stories on Facebook.