We know that the world is focused on stopping climate change and protecting the environment. But we want to know what environmental issues you face in Blackpool. Is it air pollution from the road outside your front door? Or do you worry about the amount of plastic getting washed up on the beach? Do you wish there was more green spaces in Blackpool to help nature thrive?
Get Blackpool Reading has launched a poetry writing competition to celebrate Earth Day, calling on children and young people right across Blackpool to speak up about the environment on their doorstep, through poetry. Poetry can be a helpful tool to explore and express emotions about a particular subject in an unconventional way, and we want this competition to inspire and empower the next generation to use their voices for a cause they believe in.
All poems are welcome!

Poems are springing up across the town in shops, community centres and local parks to spark creativity and inspire new budding poets. The National Literacy Trust will also be sharing top tips and writing advice, on its Get Blackpool Reading Facebook page.
What types of poems could I write?
Entries of all poetry types are welcome, from haiku and limericks to sonnets and prose, the only rule of the competition is that poems should focus on protecting or improving the local environment.
You could write a:
Haiku: a poem of three lines, with five syllables in the first and third lines, and seven in the second line
Limerick: Often humorous, a limerick has five lines. Lines 1, 2 and 5 rhyme with each other, whilst lines 3 and 4 rhyme with each other
Shape poem: Great for kids, the words are displayed in the shape of an object, for example a tree, or a wave
Sonnet: Often found in Shakespeare's plays. a sonnet is a poem of 14 lines which focuses on one issue or idea, ending with a resolution. It tends to follow an ABAB structure.
Acrostic poem: The first letter of each line spells out the poem's theme, and can have as many rhymes (or not!) as needed
Prose: Doesn't use "typical" line breaks, but includes elements of poetry such as rhyme, rhythm, repetition, and metaphors
The type of poem you write is completely up to you! We would love to see your creativity really shine through in this competition, and we can't wait to hear about all of the amazing ways Blackpool is helping to protect the environment.
Entering the competition
How to enter
The competition is open to children aged 4-14 and opens on 10 April. To enter you must submit your entry before midnight on Monday 24 April. Entries should be submitted via email to getblackpoolreading@literacytrust.org.uk with the name, age, and school of the author, plus a contact phone number or email address for a parent or guardian. Entries can either be sent as a digital word document, or a legible and clear scan/image of a handwritten poem.
Selecting winners
Three winners will be chosen by Blackpool's incredible team of Literacy Champions, awarding one winner and runner up each from Key Stage 1, Key Stage 2 and Key Stage 3, winning a book bundle for themselves and a book bundle to share with their class too.
Good luck!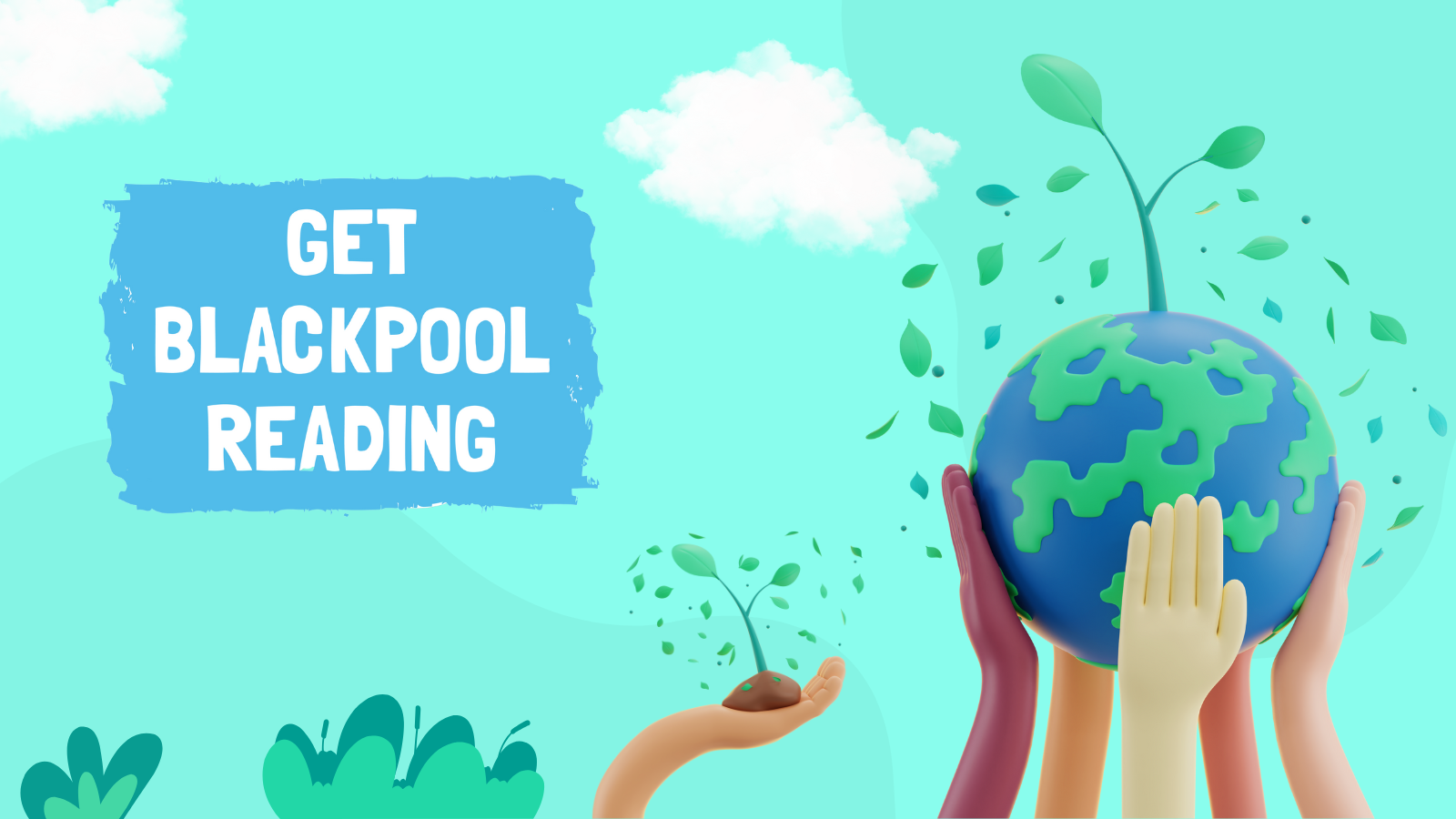 General terms and conditions
The Get Black Pool Reading Earth Day poetry competition is open to children aged 4-14 living in Blackpool.
It is free of charge to enter.
Entries must be submitted by emailing a copy of the work to getblackpoolreading@literacytrust.org.uk.
No responsibility is accepted for entries lost, damaged or delayed as a result of any network, computer hardware or software failure of any kind, nor for any postal damage or losses. Proof of entry will not be accepted as proof of receipt.
There will not be a notification of receipt for entries.
Prizes offered are non-transferable and non-exchangeable. However, in the event of unforeseen circumstances the promoter reserves the right to offer alternative prizes of equal value.
The winner will be notified using the contact details supplied for entry, and asked to acknowledge the notification.
If we do not receive confirmation of acceptance within two weeks of notification the prize will be forfeited and a new winner will be selected.
By accepting a prize, the parent/guardian's winner will consent to their success being publicly announced by the National Literacy Trust in newsletters, and in any other media (including social media and press). You will never be approached directly by a journalist.
By taking part in this promotion, all entrants will be deemed to have accepted and be bound by these terms and conditions.
Contact details provided for entering the prize draw will be managed according to our privacy policy.
The National Literacy Trust may in their absolute discretion modify, amend, cancel or suspend these terms and conditions at any time if they deem necessary or if circumstances arise beyond their control.
The National Literacy Trust reserves the right in their absolute discretion to disqualify from this competition any entrant who they believe has not complied with these terms and conditions or acted in good faith.
The promoters' decisions are final in all matters relating to this promotion and no correspondence will be entered into.
These terms and conditions shall be governed by the laws of England and Wales and are subject to the exclusive jurisdiction of the English courts.