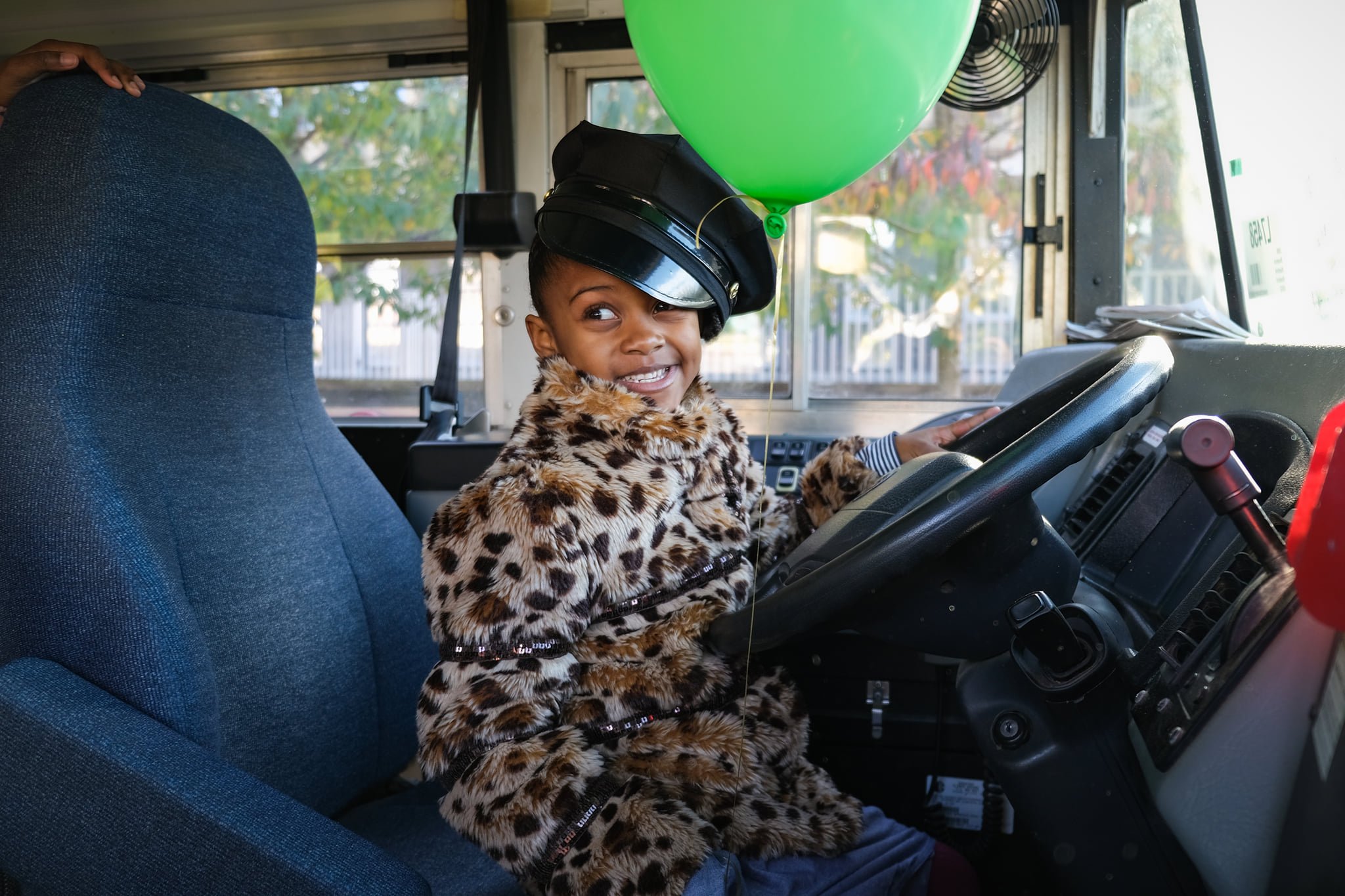 Taliah Richmond was just four years old and learning to talk when the pandemic broke out and she became a Literacy Champion volunteer for the National Literacy Trust. She is now reaching her eighth birthday, has been elected for the student council at her school and wants to become a change-maker for future generations.
For nearly four years, little Taliah and her mother Simone Reid, 38, greeted family's screens with storytime videos to keep them entertained during lockdown. They spotted a unique opportunity to role-model storytelling as a way to support family literacy skills and learning at home, for the National Literacy Trust Bradford Hub.
Literacy Champions are supported volunteers who work alongside local teams in the National Literacy Trust Hubs to deliver and support activity where low levels of literacy are seriously impacting people's lives. They live or work in the heart of their communities and understand the unique challenges and opportunities of their area. This makes them trusted local voices and best placed to bring people together to make change.
The enterprising mother-daughter duo have produced craft activities, donated books to community spaces and events, and celebrated World Book Day with Blue Peter.
"Volunteering has really given Taliah a sense of responsibility and confidence. She's now engaging with new activities at home, in the community and on the Bradford Stories Bus", Simone beamed.
"She's wanting to be a world leader, she's concerned about conflicts in Yemen, poverty in her local community, and how she wants to create more peace and prosperity. When she's handing out books, she genuinely gets a sense of joy from that."
Since becoming a Literacy Champion with the National Literacy Trust in Bradford, seven-year-old Taliah has gone on to be recognised for her reading fluency and comprehension in class and is helping to drive change in her school council.
Research from the National Literacy Trust shows that more than one in four (27.2%) agreed that seeing their role model read would make them think that reading would help them to pursue a career they are interested in. By drawing on this appeal, Simone has been able to positively influence Taliah's prospects and pass on a love of reading to the next generation.
Simone went on: "To see how Taliah participates and volunteers to answer questions, like at an event with author Harry Heape on the Bradford Stories Bus, is amazing. She's now not afraid to step into a spotlight and she's built those muscles to put herself out there.
"She's now part of the student council - so being a role model seems to be at her core now."
Bradford Stories is an initiative from the National Literacy Trust and Bradford Council. Launched in 2014, it brings together a range of partners to improve literacy levels in the city and promote reading, writing, speaking and listening of those who need it most. During the pandemic, the nifty pair got creative and inspired families to create their own Elmer the Elephant out of milk bottles, shared bedtime stories and book reviews for thousands of families on Facebook.
Simone suggested that this video creation, and supporting book donations, provided sustained support to help maintain her daughter's literacy skills outside of school and during the pandemic.
This came at a time when DfE research showed that primary and secondary pupils in the North East, Yorkshire and the Humber experienced the greatest learning loss of just over two months (2.4 and 2.2 respectively), compared to the national average of two months (2021).
Simone said:
"Creating videos and craft ideas was such a special way for Taliah to see the scope of her existence and how she can make impact outside of our home.
"For a lot of students during the pandemic, there was an ongoing challenge of lots of stop, start and staccato momentum in their formal learning careers – with an ongoing challenge of how to re-engage in their reading and writing. I've spoken to headteachers about how they're still feeling the hangover impact of the pandemic on education."
Simone emphasised how the pandemic's 'ripples are just going to continue' and laid out the importance of the Literacy Champion programme in developing reading skills.
"I feel like Taliah's engagement in the community and Bradford Stories Hub has kept a particular sense of engagement in her learning. I have to credit Bradford Stories which has been so strong for her development, leadership, social skills and confidence during and after the pandemic.
"I'm sure she would love to do more for Bradford Stories. Even if that was to lead reading or doing more on the Bradford Stories Bus."
Through her love of books, Taliah has discovered mindfulness and the power of reading for promoting wellbeing and looking after her own happiness.
Mother Simone said books have had a 'grounding' effect and given Taliah the ability to 'identify her emotions, manage and control them'.
She revealed:
"Taliah gets a lot of emotional management skills and wellbeing benefits from reading. She enjoys books which can give her a bit of guidance on emotions and how to navigate the world.
"These books engage and prime the body first, and then takes you on a journey with a story about resilience, kindness or courage. By the end, she ends up feeling uplifted by these experiences!
"Books allow her to identify her emotions, manage and control them. They help her walk through these feelings which is just amazing and so grounding."
Speaking about how the Literacy Champion initiative has played a role in their special bond, Simone said:
"We love being together! Being a Literacy Champion has added a beautiful dynamic to our relationship.
"Taliah knows that what we do has a purpose that's beyond just us. Our videos and activities go out into the community and the world.
"In this sense, it helps her to connect to a bigger picture and Bradford Stories is a great vehicle for that."