Bradford Stories and the National Literacy Trust have launched the Bradford Stories Bus in the city, with support from partners Bradford Council, EnKahnz and Bradford 2025.
Travelling more than 3,000 miles from New York, the bright yellow school bus is to be a permanent library space promoting community literacies in Bradford.
With an equal focus on speaking and reading, the new storytelling space is to recognise the important tradition of oral and written storytelling, and encourage families to express themselves and tell their own stories.
It will promote reading for pleasure and deliver wellbeing events across Bradford's target wards including Keighley Central, Toller, Holme Wood, Tong and Bowling.
Children and families are being invited to celebrate the Bradford Stories Bus launch by joining the fun-filled communities tour from October 23 to 27, as part of the National Literacy Trust's Connecting Stories project, funded by Arts Council England.
Connecting Stories addresses the literacy attainment gap across our 14 Hub areas. It provides a programme of exciting events: from virtual author visits, creative writing competitions, book donations, and a variety of activities for families to enjoy. The events aim to improve attitudes and behaviours towards reading for pleasure, and supporting wellbeing in diverse, disadvantaged communities, following our research which shows children who enjoy reading are happier in their lives.
An amazing array of authors including poets Dommy B and Andy Craven-Griffiths led the inaugural sessions on the bus with groups of pupils from St Williams and Horton Park primaries whilst Bradford-born author Sairish Hussain discussed her writing journey, importance of local identity and top tips for sharing your own stories with Imran Hafeez, Bradford Stories Hub Manager, in the afternoon.
From October 23 - 27, parents, young people and early years children upwards will be given free access to storytelling and poetry workshops, exclusive author events and resources on the bus, as part of the communities tour, sponsored by Bradford 2025.
Starting in Morrison's within the Victoria Shopping Centre on Saturday, the Bradford 2025-sponsored bus will head to high streets, parks, playgrounds and community centres across the city over the week.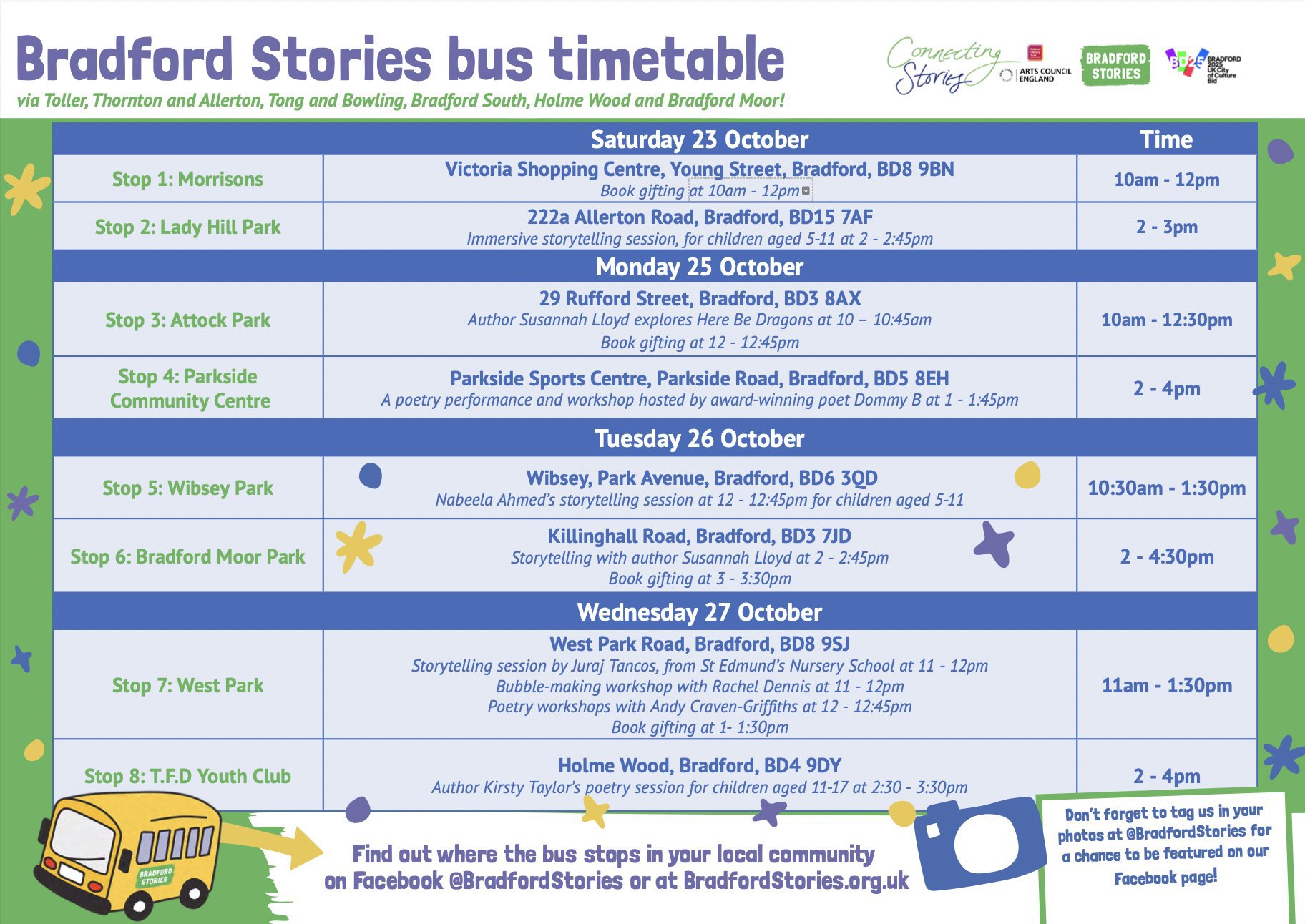 Bradford Stories Bus travelled across the Atlantic, where it was converted by Shred and Butta. Jim Stewart, Director of Shred and Butta, renovated the bus with bookshelves, a magical archway, hardwood flooring and new seats.
Painted with beautiful murals designed by local artist Naureen Khawaja, the Bus captures the backgrounds, experiences, traditions and values of different generations across the city.
The Bus will support the Light Festival on November 5 to 6, sponsored by Bradford Council, before kicking off a programme of school and Young Bradford Poets events.
Supported by partners including Bradford 2025, 50 Things to do before 5, EnKahnz, My Lahore, Bradford Council, Friends of Bradford Moor Park and Arts Council England, the Bradford Stories Bus builds the literacy hub's community-level partnerships with local businesses and artists to inspire school pupils and young people.
Nabeelah Hafeez, Project Manager at the National Literacy Trust, said: "The Bradford Stories Bus is an amazing new project to bring literacy and books, art, poetry and events to children, families, schools and communities in the Bradford district.
"We will continue to build on our existing work in new, exciting, and innovative ways to bring literacy to the forefront of Bradford's cultural landscape. There are some wonderful upcoming events, including author workshops, book gifting from the bus, story time on the bus, community screening events and poetry nights."
Richard Shaw, Bid Director of Bradford 2025 UK City of Culture Bid, said: "We've been following the ambition to bring the bus to Bradford for over a year now and Bradford 2025 City of Culture has been delighted to help the bus find a new lease of life.
"It's been such a labour of love by the team at Bradford Stories and the National Literacy Trust, Connecting Stories and a host of other partners including all the craftspeople who have made this possible all working together to inspire a lifelong love of stories and reading."
Kersten England, CEO of the City of Bradford Metropolitan District Council, said: "We are really excited to be partnering with Bradford Stories on this amazing literacy offer for Bradford.
"The Bradford Stories Bus project will help bring the joy of books, stories, author and poet events to communities across our district in a unique and fun way."