World Book Day is one of the highlights of our year at the National Literacy Trust! We love the annual celebration of authors, illustrators, books and the joy of reading.
We're already looking forward to celebrating World Book Day next year on Thursday 7 March 2024.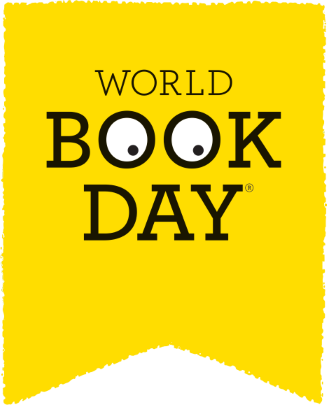 As we plan events and resources to support you, we'll update this page throughout the year. You can also read on to learn more about how we celebrated in 2023, and to access reading for pleasure resources, ideas and activities that can encourage a love of reading throughout the whole year.
How we celebrated World Book Day 2023
We're hugely excited to have worked with our friends at World Book Day, the charity whose mission is to promote reading for pleasure, offering every child and young person the opportunity to have a book of their own.
Since it was first celebrated in the UK and Ireland over 25 years ago, the day has grown to become an essential calendar fixture for schools, settings and communities. It provides a fantastic opportunity to focus on reading for pleasure, supporting children's autonomy in book choice, and embedding a habit of reading that brings a wide range of benefits.
Read on to discover more about bringing the excitement of World Book Day and the pleasure of reading to your classroom.
---
Teaching resources and activity ideas for schools on World Book Day 2023
World Book Day celebration ideas 2023 - book choice and pupil voice
Drawing on the six elements that we know support children to read for pleasure, we developed this collection of fun ideas that champion both providing pupils with choice, and giving them a voice, as they progress in their reading journey. Great for World Book Day, but also full of inspiration to support reading for pleasure throughout the year.
Download: World Book Day celebration ideas - book choice and pupil voice
Celebrating favourite characters and books
We want to make sure no child is left out of World Book Day, and understand that that families may be under significant financial and time pressures. This resource provides step-by-step ideas for accessible, classroom-based fun that provides an alternative to dressing up. We aim to ensure that every child can participate in World Book Day, and can celebrate the stories they love, without an expectation for families to provide a costume.
Download: World Book Day top hats and potato characters
Book tasting café
Our Young Readers team has 25 years of experience delivering fun reading events to help pupils develop their own reader identity and engage with reading for pleasure.
Drawing on this expertise the team has provided a set of resources to help you run a Book Choice 'Tasting' Café on World Book Day - or beyond. This collection includes:
Book choice 'tasting' café teacher guidance
Book choice café presentation to share with children supporting them to explore books and find their own favourites
Book menu template - an editable document for you to add your own selection of titles to taste!
Book Chat conversation starters - a poster packed with questions to get children talking about their reading
Download: Book tasting café resource collection
Download: Engaging parents in reading for pleasure - a resource for teachers
Explore all our resources for schools and early years settings
---
World Book Day for families
Sharing stories is a great way to enjoy time together as a family, and help children build a love of reading for pleasure. Our Words for Life site is packed with ideas for fun, family activities that support children's reading, writing and speaking at home.
Find family activities on Words for Life
---
Research: Exploring the impact of World Book Day
The National Literacy Trust was commissioned by World Book Day to evaluate the impact of the initiative on the reading lives of children aged 8 to 11 in the UK.
Our report shows how World Book Day welcomes children into the world of books and reading in two ways: by helping all children become book owners, many for the first time, and by supporting a variety of activities and experiences essential for building life-long readers.
See key findings and download our World Book Day research report.
---
Learn more about World Book Day
The World Book Day website is a great place to discover more about the importance of reading for pleasure, and a huge range of resources for schools, early years settings and families to enjoy.
We recommend that you check out the 2024 list of £1 World Book Day books, and share your love of reading with your class groups and communities.