Event details
Date: Sunday 7th April 2024
Location: London
Fundraising target: £350
Registration fee: £25
Sign up
About the London Landmarks Half Marathon
The London Landmarks Half Marathon is the only half marathon to go through both the City of London and the City of Westminster. From cultural landmarks and heritage to the city's quirky and hidden secrets, runners get to explore the capital on a route like no other!
Supporting our work
This event is a great option for both seasoned runners and those who are just starting out, as well as a great opportunity to support our work ensuring all children have access to books.
Half a million children in the UK don't have a single book of their own at home. This excludes them from the opportunity to discover the books they love and read for pleasure, meaning that they miss out on the chance to practice their literacy skills outside of a school environment. For children who are non-verbal, speak English as a second language or have sensory disabilities, this issue is exacerbated because specialised books are often limited in availability and high in cost. Through our literacy hubs, we work to give all children free access to books by distributing them through libraries, schools, food banks and many more organisations. By supporting the National Literacy Trust, you are giving more children the chance to discover the books they love.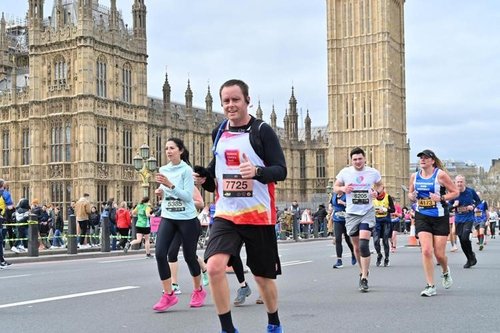 All London Landmarks Half Marathon runners will receive:
A free National Literacy Trust running vest.
Fundraising support from our dedicated events team.
Support with half marathon training.
Please contact us if you have any questions about taking part in the London Landmarks Half Marathon.
Sign up to the London Landmarks Half Marathon now
Running event FAQs