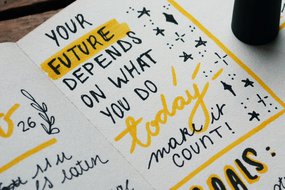 What is National Careers Week?
National Careers Week, taking place this year from Monday 6 March to Saturday 11 March 2023, was set up by National Careers Week charity (NCW). The week shines a spotlight on the importance of high-quality careers education and provides opportunities for children and young people to engage with the world of work .
To celebrate the week, The National Literacy Trust has created a series of activities to inspire pupils aged 5 to 18 to explore future career paths and opportunities, and the key skills needed.
How does National Careers Week link with literacy?
We've long known that a love of reading and writing can help children flourish at school and go on to succeed at work and other ventures in life. But we now know that reading and writing for enjoyment can also play a vital role in helping children lead happy, healthy and successful lives. Our research team has explored and identified links between children's literacy engagement and their future in the workplace, demonstrating how both reading and writing supports children's futures. Key findings include:
Young people have high academic, professional and personal hopes for their futures, however around 2 in 5 young people (43%) either don't believe or are unsure they will achieve their aspirations.
A lack of confidence is one of the greatest barriers to realising aspirations for young people and adults, particularly for girls (55.5% vs 41.7% of boys) and women (46.6% vs 35.4% of men).
The report revealed that good literacy skills could be the key to helping young people and adults overcome these barriers, by giving them the confidence to pursue their aspirations (83.2% adults vs 65.9% young people), by helping them achieve their dream career (76.7% adults vs 40.5% young people) and by helping them reach their personal goals (69.4% adults vs 39.1% young people).
National Careers Week classroom resources
Primary school resources: For pupils aged 5-11 (KS1-KS2/First Level - Second Level), resources consist of whole school assemblies (downloadable PowerPoints) to be delivered throughout the week alongside a Teacher Guide that includes follow-up classroom activities. The resources explore themes of creativity, care and problem solving, providing pupils with the opportunity to reflect on careers that utilise these traits and skills. At the end of the week, we suggest holding a celebration assembly, where pupils can come together to share their learning from across the week.
Secondary school resources: For pupils aged 11-16 (KS3-KS5/ S1-S4) learning activities are provided in the downloadable Teacher Guide. The resources consist of five 60-minute sessions which can be completed throughout National Careers Week or beyond. The activities provide pupils with the opportunity to explore different career pathways, their own aspirations, work-based skills and interview techniques.
The free resources have been designed to:
Provide ideas for teachers to use in school during National Careers Week and beyond (for ages 5 to 16)
Give children and young people the opportunity to develop key reading, writing and oracy skills needed in the world of work.
Set time aside each day throughout National Careers Week to empower young people with future aspirations and to explore opportunities in the workplace.
More useful careers-focused resources
Download files