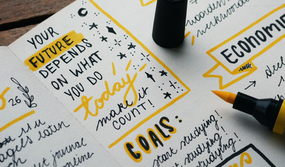 Words for Work is the National Literacy Trust's flagship literacy and employability programme. The programme gives children and young people the literacy and communication skills they need to reach their potential.
We have developed a series of booklets packed with activities that will provide an understanding of career options, plus insights in to job skills and application processes, each tailored to different age groups. The booklets can be completed at summer schools, or can be shared to be done independently at home.
The booklets cover:
Children at primary school - including an introduction and activities for different job roles, and a game to play together
Young people at secondary school - covering information about CVs and interviews, as well as lots of ideas and prompts for writing
Young people aged 16+ - providing in-depth guidance about application processes, writing a CV or presentation, preparing for interview and tips on independent study and revision.
These booklets have been developed as part of the Words for Work programme and generously funded by Provident Financial Group.
Download files
You might also be interested in