Words for Work
Words for Work is the National Literacy Trust's flagship literacy and employability programme. The programme gives young people from disadvantaged communities the literacy and communication skills they need to reach their potential.
The programme brings schools, colleges and businesses together to take literacy from the classroom and into the workplace.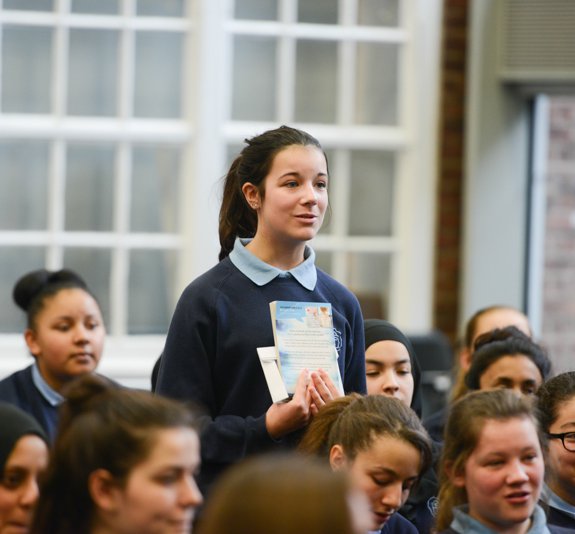 About the programme
Literacy and communication skills are vitally important in the workplace, with higher levels of essential skills such as speaking, listening, leadership and teamwork being associated with higher incomes and reducing the probability of being out of work. Such skills are highly valued by employers, and in 2022, Teach First found that broad "soft skills" such as communication and presenting, as well as literacy and numeracy skills, were among the top factors considered by employers when recruiting young people.
However, 72% of these employers were concerned about young people's level of broader skills for the workplace, such as communication and presentation, and 68% showed concern about their levels of literacy and numeracy skills. These concerns about the absence of relevant workplace skills can make employers hesitant to recruit young people and presents a barrier to employment.
Words for Work aims to:
Demonstrate the importance of literacy for success in employment by providing workplace context for students
Improve young people's verbal and written communication skills through activities lead by teachers and through engagement with corporate volunteers
Give young people confidence in their own abilities and raise their career aspirations
"Thank you for running the programme with our school. We really enjoyed it and felt that students benefitted a lot from understanding the importance of literacy and communication in the workplace"

Teacher from a Words for Work school
Who does Words for Work help?
Words for Work has numerous benefits for students, teachers and businesses across local communities:
Students

Words for Work develops students' literacy and communication skills to help them to achieve their aspirations. Words for Work can help schools to achieve The Gatsby Benchmarks of Good Career Guidance.

Schools and colleges

Students' confidence and speaking skills are improved through working with local business volunteers.

Businesses

Words for Work enables businesses to contribute directly to their future workforce and can form a part of CSR activity.

Employees

Through working with young people, Words for Work helps employees build their coaching skills, helping to improve communication at work.
Get involved
Schools and colleges
If you are interested in running Words for Work in your school, please contact us to join our waiting list.
Volunteers
Local business volunteers from a wide range of professions and industries can take part in Words for Work.
Corporate partners
Corporate partners play a significant role in supporting Words for Work, funding the project in local schools, hosting visits at their sites and providing volunteers.
Success stories
Read more about how Words for Work has impacted students, schools and businesses.