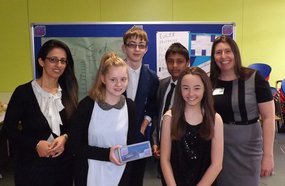 Key literacy skills taught in the classroom are essential for students as they prepare for their next steps after leaving school, whether this will be entering the world of work or going forward to further or higher education.
The CBI Education and Skills Report shows that 70% of employers rate literacy skills as one of their three most important considerations when recruiting school and college leavers.
National Careers Week takes place each year in early March and can be a useful prompt for an in-depth focus on careers guidance activity. However, these resources can be used year round to help young people plan and prepare.
Use these resources to equip students to demonstrate their skills, strengths and competencies as they interact with potential employers, universities or college through the application process and interviews.
The resource
In this resource we provide three workshops covering:
Writing a CV - including a presentation to share with students, teacher notes, top tips summary and a sample template to help students create their first CV
Elevator pitches - including a presentation, teacher notes and a worksheet to enable students to start to talk about themselves with confidence and to think about how they might pitch themselves to potential employers, universities or colleges.
Interview skills - providing a presentation plus notes, insights and top tips that will help students prepare successfully for their first job, college or university interviews.
---
Literacy and employability
This guidance has been compiled by our Words for Work team, responsible for our flagship literacy and employability programmes that support students to gain the literacy and communication skills they need to reach their potential.
Download files
You might also be interested in