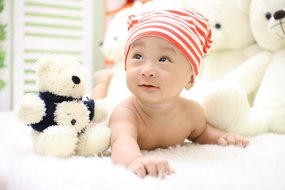 The resources on this page are restricted to programme participants.
This page contains all the resources you will need to share our early years CPD with other practitioners at your setting. The resources are the same as the ones used in training. The resources are only open to schools and settings who have:
Purchased early years CPD from the National Literacy Trust
Taken part in strategic, funded delivery of early years CPD, led by the National Literacy Trust
The resources include:
Early years CPD HELLO tool
An improvement tool to help you assess provision for supporting children's communication, language and social emotional development.

Early years CPD training PowerPoint
A training PowerPoint to enable you to introduce other practitioners at your setting to language and social emotional development training.

Early years CPD training materials
These activities compliment the training PowerPoint. You already did these activities at the initial training. Now you can use them to share the training with other staff at your setting.
Early development milestones: Participants review the developmental milestones for children 0-5 and match them to the appropriate age on the chart
Communication pyramid sorting activity: Participants sort the communication and language activities into the appropriate area of the chart
Venn diagram prompts: Participants reflect and discuss in which portion of the speech, language and communication Venn diagram each prompt belongs (hint: one prompt can belong in multiple portions of the diagram)
Communication pyramid case studies: Participants read each case study to determine where each child is on the communication pyramid
Recipe card: Participants create a step-by-step guide for having positive interactions with young children
Evaluation materials
Parent and practitioner surveys: Use these tools to help complete sections A and B of the HELLO tool
Case study template: Complete this case study after you have run the action plan at your setting
Case study example: Read this sample case study to see an example of what a case study could look like
These CPD activities were created by National Literacy Trust with expert consultancy from Janet Cooper, Speech, Language Therapist and Early Language and Communication Strategy Lead in Stoke on Trent.
Download files
You might also be interested in