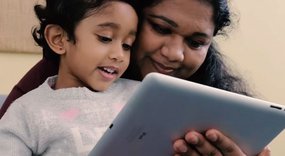 Technology can play a role in supporting early communication, language and literacy. It can offer new learning opportunities, through ebooks, apps, and even video calling.

We strongly advise that, just like a book, technology is used as a tool for learning and play, rather than as a replacement for adult interaction.

Our research shows that, when used appropriately, technology can be an important route in to reading for certain groups of children, particularly those from disadvantaged backgrounds and boys.
For parents
Our Words for Life website has advice and tips for parents on how to use technology with their child in the early years.
Our Literacy Apps website also helps parents find the right apps to help children develop good communication and literacy skills. It includes apps recommended by us, searchable by age, and has top tips and advice on how to choose a good quality app yourself.
Take a look at our 'using tablets to support communication, language and literacy' video for guidance for parents on using a tablet to support their child's learning.
For early years practitioners
Along with these downloadable resources, we have created these videos on using technology in early years settings. Created in partnership with Harrington Nursery Schools in Derby, these videos will help early years practitioners plan for using digital technology effectively.


These videos also complement our HELLO improvement framework which helps early years settings improve their communications, language and literacy provision.
Download files