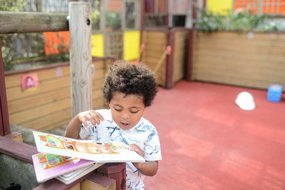 The Helping Early Language and Literacy Outcomes (HELLO) improvement framework is a quality improvement tool for early years settings who want to improve their communication, language and literacy provision.

The self-evaluation framework provides prompts, critical questions and resources to help settings identify their strengths and areas for development. The framework examines the following three key areas:

partnerships with parents

skilled practitioners

enabling environments
The HELLO framework helps you gather evidence and turn it into an action plan. The process also supports further reflection, so settings can evaluate the impact of any improvements they make. The self-evaluation can be completed as a whole team exercise or undertaken by a senior lead or manager.
How it was developed
The framework was developed from a programme that the National Literacy Trust ran with five early years teaching schools and two local authority early years teams. We jointly developed the HELLO improvement framework and tested it fully with 74 early years settings across England between April 2015 and March 2016.Our best practice examples show how nurseries in this project have used the HELLO framework to improve their language and literacy provision and to complement other initiatives, such as WellComm, Early Talk Boost, the Infant Toddler Environment Rating Scale (ITERS) and the Early Childhood Environment Rating Scale (ECERS).
Supplementary resources and training
This section is only available to schools and settings once they have undertaken National Literacy Trust's HELLO training. The resources are only open to those who have:
Purchased training for HELLO from the National Literacy Trust
Taken part in strategic, funded delivery of HELLO training, led by the National Literacy Trust
Below is a brief description of each resource.
HELLO training materials
These activities compliment the training PowerPoint. You already did these activities at the initial training. Now you can use them to cascade training to the rest of your setting.
HELLO training PowerPoint: A training PowerPoint to enable you to cascade language and social emotional development training to other practitioners at your setting.
Child development milestones: Participants review the developmental milestones for children 0-5 and match them to the appropriate age on the chart.
Talk strategies: Evidence-based strategies for supporting children's language. Share these strategies with practitioners at your setting. Review those that you use most/least often.
Evaluation materials
Action planning template: Complete this template and submit it National Literacy Trust before you start your action plan.
Case study template: Complete this case study after you have run the action plan at your setting.
Case study example: Read this sample case study to see an example of what yours can look like.
---
HELLO in Greater Manchester
From April 2018 until July 2019, we were commissioned to deliver training and support in the use of HELLO by Greater Manchester Combined Authority as part of a raft of speech, language and communication initiatives framed by the GM SLC pathway. The report below explains how the HELLO framework aligned with existing SLC programmes and resources, and was used to evaluate and evidence the improvements made through this wider context of complementary initiatives. HELLO enabled the joining up of local services across both local authority and combined authority areas.
HELLO in the Black Country
From September 2019 until July 2020, training and support in the use of HELLO was delivered across Sandwell, Dudley, Walsall and Wolverhampton, supporting early years pop up hubs in the area. Our work in the Black Country was commissioned by the Black Country Consortium and funded by the Early Outcomes Fund. Read our evaluation of the project here: HELLO in the Black Country evaluation report
Download files