Early Words Together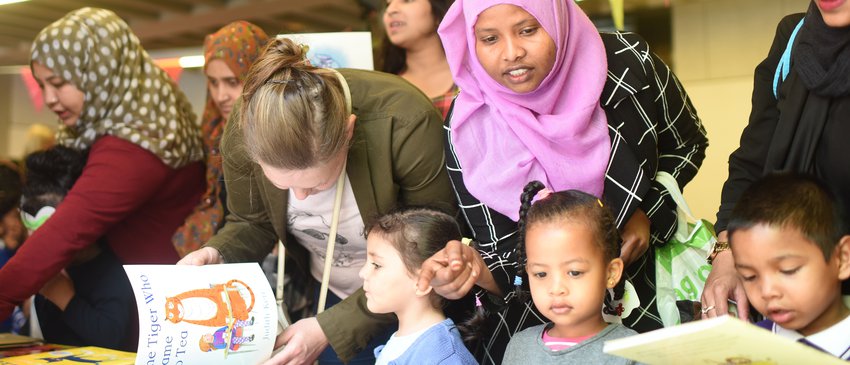 Early Words Together helps parents support their young child's literacy and language development.
The need for Early Words Together
The vocabulary of children from low income families can lag behind their high-income counterparts by up to 19 months at age 5 (Gascoigne & Gross, 2017). However, the home learning environment (HLE) can have a positive impact on a child's communication and language development, and has been shown to have a greater impact on a child's intellectual, social and emotional development than the parent's education, occupation or wealth (Sylva et al, 2004). Our Early Words Together programmes give parents the awareness, skills and confidence to provide a language-rich home learning environment that supports their child's language and early literacy development.
About the programme
Since 2011 Early Words Together has supported over 9,000 families in over 50 local authorities, focussing on areas of high deprivation. Delivered to small groups of families with children aged 3-4 over six weeks by practitioners and volunteers, it empowers parents to develop and enrich the home learning environment and support their child's early language and literacy.
An independent evaluation using standardised testing showed it to have a statistically and educationally significant impact on children's receptive vocabulary skills and it increased the home learning environment behaviours of the parent.
The programme can be commissioned as the evidence based Home Learning Environment 3-4 Programme in Family Hubs. It is currently running in Cornwall, Gateshead, Middlesbrough, Redcar and Cleveland, Salford, South Tyneside, Southwark and Thurrock.
Get a quote for running Early Words Together
Programme aims
Early Words Together aims to support the communication, language, and early literacy of young children age 3-4 through evidence-based activities which lead to improvements in their home learning environments. Through our work with families and our CPD for practitioners and community organisations, we improve confidence and understanding of children's language development, support sustained positive changes to a child's HLE and create greater partnerships between practitioners and families, between practitioners in communities of practice, and between local systems. Our over-arching goal is to close the language gap among young children of different socio-economic classes and give all children the skills they need to succeed in school and in life.
Programme objectives
Close the language gap among children of difference socio-economic status.
Improved home learning environment for all children taking part as parents feel empowered in their role as their child's first educator.
Educators and parents act in partnership to support the child's development.
Networks of practitioners who use evidence-based strategies to support children's CLL and engage parents in their child's learning.
Increased community expectations for children's CLL development
Programme impact
Families who started the programme with the lowest levels of reading enjoyment showed 77% increase in enjoyment of sharing and reading books
Families who started with lowest frequency of book sharing showed a 91% increase in reading frequency
Parents reported talking more to their child and encouraging them to talk
Measured against a standardised pre-school language scale, on average, participating children increased their vocabulary by over five standardised points. This indicates that the children's vocabulary levels were developing faster than we would predict from normal maturation.
Resources
We have a wealth of downloadable resources for schools, family hubs and settings delivering Early Words Together.
Download resources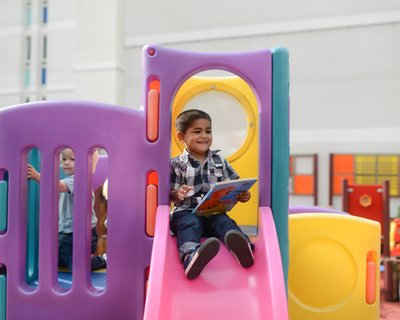 Programme adaptations
Early Words Together is a flexible programme which can be adapted to suit the needs of a particular area or demographic. If you'd like to speak to our early years team about running Early Words Together in your area, get in touch with us to find out more.
Success stories
We work with schools, settings and families in some of the most disadvantaged areas of the UK. Read their stories: