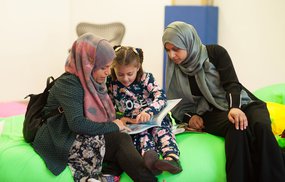 Our early years family involvement toolkit contains tips, research and best practice examples to help early years practitioners and settings involve families with young children in reading.

The toolkit is rooted in the guiding principles of the early years foundation stage (EYFS):
Every child is unique

Children learn to be strong and independent through positive relationships

Children learn and develop in different ways and at different rates
This widely-used and trusted resource includes fantastic ideas for developing young children's communication and language, engaging families with the setting and supporting young children with special needs – to name just a few.

As an early years setting, you can dip into this toolkit to find ideas for encouraging early years reading and family involvement, or you can use it to help you develop a positive reading culture within your setting that promotes a love of words, stories and reading.

The toolkit was created as part of Early Reading Connects, which was established as a network to support early years settings and professionals to encourage a love of language, stories and reading. The network was funded by the Government from 2008 – 2011.
To support families with simple chat, play and read activities for children aged 0-5, please visit our our Words for Life site, which has been designed to provide parents, children and young people with activities and support to improve their language, literacy and communication skills from home.

Download file