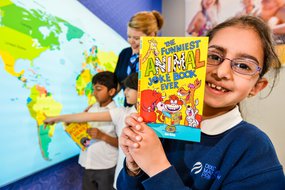 Non-fiction books are a brilliant way to engage readers and bring information alive. This book list contains 50 non-fiction titles for use with primary school pupils. The books are exciting and innovative which will ignite young minds.
From reference books to stories about real-life figures, a wide range of titles are included to show the breadth of non-fiction today.
The books have been organised in age order for easy reference. Links to curriculum areas have been identified, and each title comes with a brief description and overview.
Books featuring on the list include The Earth Book by Jonathan Litton and Thomas Hedgbrook, Fantastically Great Women Who Changed the World by Kate Pankhurst and Exploring Space by Martin Jenkins and Stephen Biesty.
Curriculum links
Science
Geography
Art
History
"…reading and writing non-fiction can also draw on and develop our creativity. It sets us on intellectual adventures in the real world and the best texts are well researched and information-rich."

Margaret Mallett
Download file
You might also be interested in