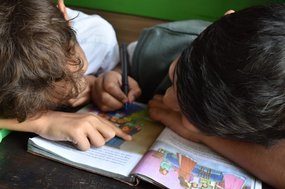 The return to school for both children and teachers can feel exciting and apprehensive in equal measure. To support teachers of KS1, KS2 and KS3 pupils with a smoother transition, we have created back to school activities for primary and secondary children to enjoy. These ideas and activities are based around reading for pleasure and will help to instil a life-long love of books in pupils. Find out what these resources include and how to use them in your classroom.
Transition reading activities
The excitement of the new school year provides a great opportunity for teachers to embed reading for pleasure as part of everyday life at school. Creating a culture of reading for pleasure at school will also help children and families to carry on reading, and enjoying reading, at home.
To help you welcome children in primary and secondary age groups back to school and settle them into your classroom, we've put together a range of easy-to-deliver transition ideas and activities which will kick-start your year with reading at its heart!
Transition activities for KS1, KS2 and KS3: how to use our resources
The resources are designed to be used with primary school children aged 5 to 7 (KS1 or P2 to P3) and children aged 7 to 11 (KS2 or P4 to P7) as well as secondary children aged 11 to 14 (KS3 or S1 to S3).
Each teaching resource includes:
Quick-fire ice-breakers to support pupils to get to know each other and their teachers, whilst refreshing their core speaking and listening skills
Fun, easy-to-deliver, reading for pleasure activities to help create a buzz about books!
A suggested read for the first week back at school, with discussion questions to encourage book talk and book response activities amongst children. The recommended read focuses on the theme of transition and change.
School resources for primary and secondary children are available to download for free on this page. To access the activities, you will need to log in to your account, or set up a free membership with us.
These teaching resources can be used alongside some of our other popular activities for schools like 'Brilliant ideas to encourage reading for pleasure'.
Download files
You might also be interested in