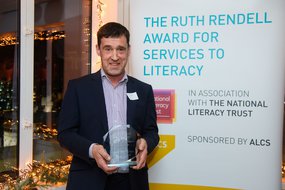 Children's author Tom Palmer has won the Ruth Rendell Award 2019 for his outstanding contribution to raising literacy levels in the UK over the past year.
Once a reluctant reader himself, Tom has dedicated his work to engaging and exciting reluctant readers and writers through the interests that worked for him - sport and history.
To celebrate his award win, Tom has created some top tips for teachers, librarians and parents to get children reading and writing using the power of football.
The resources
Top tips for teachers and librarians: this football-themed resource contains advice for teachers and librarians for getting pupils reading and writing for enjoyment
Top tips for parents: this resource is packed with top tips for parents to help them use the beautiful game to get their children excited about reading and writing
The Ruth Rendell Award was launched in 2016 by the National Literacy Trust and the Authors' Licensing and Collecting Society in memory of bestselling author Ruth Rendell. The award celebrates the author who has done the most to champion literacy throughout the UK over the past year.
Download files