Early Words Together for London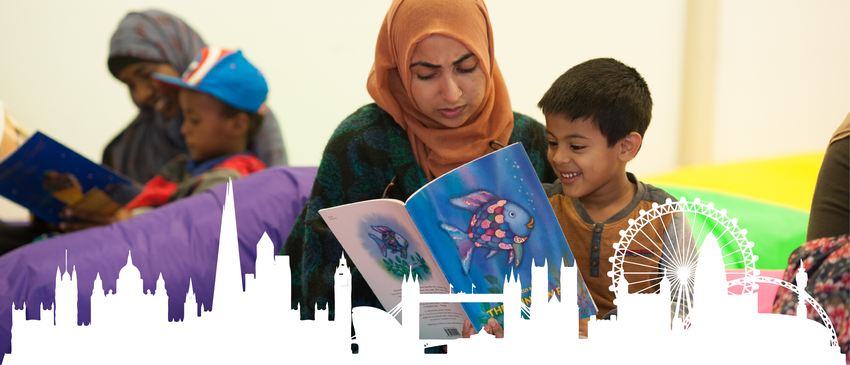 This programme helps parents support their young child's literacy and language development.
About the programme
As part of the Mercers' Company Early Years Special Initiative, Early Words Together for London was delivered in Barking and Dagenham, Southwark, and the Bi-borough of Westminster and Kensington & Chelsea from 2019 - 2022. The project involved collaboration with local authorities to identify and engage a selected cohort of children (i.e. two-year-olds, three-year-olds or four-year-olds) in an appropriate version of the programme.
Early Words Together for London was delivered in two ways: face-to-face, where practitioners are trained to work with small groups of families for five to six weeks, and through digital content, where practitioners and families access videos and support remotely.
A further adaptation to the programme involved delivering sessions in available space outdoors. This is particularly useful if restrictions are in place to prevent parents from entering the setting.
Our Words for Life website further supports parents, adding an extra boost to the activities taking place in the settings. It also engages harder to reach families who may be facing barriers accessing the nursery sessions, such as low confidence, scheduling and transport issues.
Programme impact
237 early years practitioners from 153 settings across the three London areas were trained to deliver Early Words Together, and over 2,500 families took part overall. In order to explore the changes for children, families and practitioners as a result of taking part in Early Words Together for London, data was collected from parents and practitioners as part of the programme evaluation over the three years of delivery. The findings from the evaluation of the programme are very positive despite the ongoing challenges in delivery brought on by the pandemic.
Read the report
Resources
Downloadable resources for schools and settings delivering Early Words Together for London can be found through the links below.
We have a number of resources available for settings delivering Early Words Together at Two.

Learn more

Explore resources to support schools to deliver Early Words Together at Three.

Learn more

This page contains all the additional resources you will need to run Early Words Together for children aged for 4 to 5.

Learn more
Digital resources
We have videos to support practitioners delivering Early Words Together sessions in their settings, as well as a range of resources for parents on our Small Talk website.