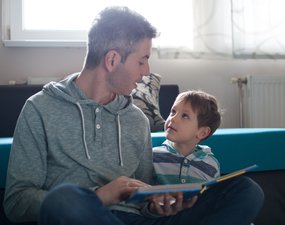 These resources are available to settings involved with the Early Words Together at Three project. They compliment your existing materials and will enable you to deliver the programme in your setting.
If you are not a part of the programme, visit our Early Words Together pages to learn more about what it involves and for information about delivering it in your setting.
In addition to these resources, parents can be pointed towards our Words for Life website for chat, play, read activities to do in the home.
Please note that these resources will continue to be developed, adapted and added to, so it is important that you check this page regularly.
Resources
Early Words Together at Three training
Staff training presentation - PowerPoint used on the staff training day
Staff action planning template - template to help plan the delivery of Early Words Together at Three in your school
For family sessions
Family sign-in sheet - staff and volunteers use this sheet to record family attendance at each session. Instructions for completing this can be found on the first page of the document
Parent takeaways with QR codes - interactive handouts for parents, as discussed in the training
Early Words Together book list - we have found that these books work best with children in the programme
Early Words Together for Children with SEND - resource explaining how Early Words Together has been delivered with children and families with special educational needs and disabilities
Family certificate template - certificate for families who complete the programme
Evaluation and monitoring
Parent surveys - parents must complete a survey on or after their final session. Parent surveys areavailable as a downloadable resource
Practitioner surveys - all practitioners supporting Early Words Together at Three s must complete a survey prior to training, and a post-programme survey at the end of their final session

Practitioner/family case study templates
As part of the project, practitioners are asked to complete a case study that captures one of two things:
Your learning as a practitioner

Your observations of a family's journey during the project
You only need to complete one case study template but if you want to do more, please do.
Please ask parents to complete the National Literacy Trust permission form if you would include photos of volunteers, parents and children in your case study.
Progress report (due termly)
Settings are asked to complete a simple online progress report each term describing how many families they've worked with, challenges encountered and successes achieved.
Please contact ewt@literacytrust.org.uk with any questions you have about the programme and resources.
Read a success story from the programme
Download files
You might also be interested in