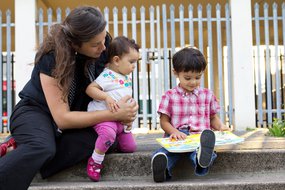 What is Early Words Together at Two?
Early Words Together at Two is an adaptation of our Early Words Together programme, designed specifically for parents of two-year-olds.
Resources
If you have received training for Early Words Together at Two, you will be able to access all the resources you need to complement your sessions here.
Early Words Together at Two toolkit
All practitioners in the project should have received a printed version of this at training. Please contact us if you need another copy.
Parent take-away sheets
At the end of each session, practitioners will provide parents with take-away sheets with key messages for promoting their child's learning and simple activities to try at home.
Parent sign-in sheet
Please fill in this log at each parent session so we can record how often parents are attending sessions. You can submit the log to us via email or post at the end of the cycle of sessions.
Case study templates
As part of the project, practitioners are asked to complete a case study that captures one of two things:
Your learning as a practitioner

Your observations of a family's journey during the project
You only need to complete one case study template but if you want to do more, please do.
Please ask parents to complete the National Literacy Trust permission form if you would include photos of volunteers, parents and children in your case study.
Parent surveys
Practitioners are asked to help parents complete a survey at the end of the last session. This will help to see if there have been any changes for the parent or child since taking part in Early Words Together at Two.
---
Quick tips
Quick tips for parents in 17 languages
The quick tips provide parents with ideas for helping their child develop good listening and talking skills. Here you can access the quick tips in 17 different languages!
Download files