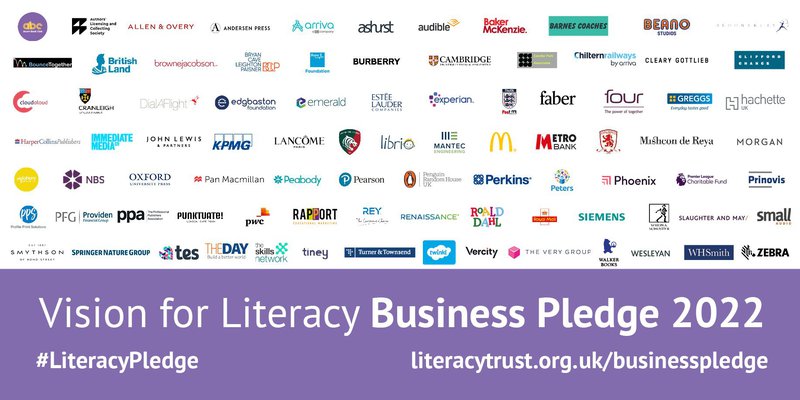 Today we are launching the 2022 Vision for Literacy Business Pledge. The award-winning Pledge is now in its seventh year and 88 businesses have committed to working to improve literacy levels in the UK.
We estimate over 3 million children benefited from businesses backing during lockdown, through activities ranging from book donations to community initiatives and funding of essential programmes in light of the disruption to education. The Vision for Literacy Business Pledge shows the difference we can make by working together with businesses, charities, schools, and the government to prioritise literacy skills.
Developed by the National Literacy Forum and supported by KPMG, the Pledge provides a framework for business action in the literacy space to close the literacy gap. Businesses do this by engaging their employees in the literacy challenge, supporting the drive to raise literacy levels in their local communities and contributing to the national campaign to raise literacy levels. The National Literacy Trust will support businesses taking action to improve literacy levels both locally and nationally.
This year, the Pledge held the first annual Business Awards in association with KPMG. The following business were awarded for their continued work to raise literacy levels across the UK:
In the Schools White Paper published yesterday, it is estimated that if 90% of children leave primary school at the expected level for reading and writing then it could be worth at least £30 billion to the UK economy. We look forward to working with all the businesses signed up to this year's Pledge to help achieve this target and the benefit it will bring to the economy.
For more information about the Vision for Literacy Business Pledge, please email BusinessPledge@literacytrust.co.uk