On the weekend of 20 March 2021, our annual Where's Wally? fun run is gong virtual, for the whole weekend! We're so excited that hundreds of runners, families and book lovers all over the country will dress up as the popular children's book character Where's Wally? and run, jog or walk to raise money for our charity.
This year we are delighted to have dynamic author duo Alex Bellos and Ben Lyttleton, co-authors of the much-loved Football School series (Walker Books) joining in the fun too!
Supported by Walker Books, publishers of Where's Wally?, the virtual event invites everyone to wear their Wally stripes with pride and take on a 5k, 10k or even 1k run for kids under 12, in their local area.
Last year, the iconic annual fun run made an Olympic debut at the Queen Elizabeth Olympic Park, but this year in light of COVID-19, the fun run is a virtual event, so participants nationwide can run, walk or jog their chosen distances close to home on the weekend of 20 March.
Everyone who takes part will get a free Where's Wally? costume, a medal and virtual goody bag which includes an exclusive sneak peek of digital activities from the brand new Where's Wally? book, Where's Wally? Party Time!
Every penny raised from the Where's Wally? weekender will help us give children across the UK who need literacy support most, a route out of poverty through literacy and chance to change their life story.
Our work to support schools and families whose children have had their literacy and learning most adversely affected by the disruption COVID-19 has caused to their education, is needed now more than ever.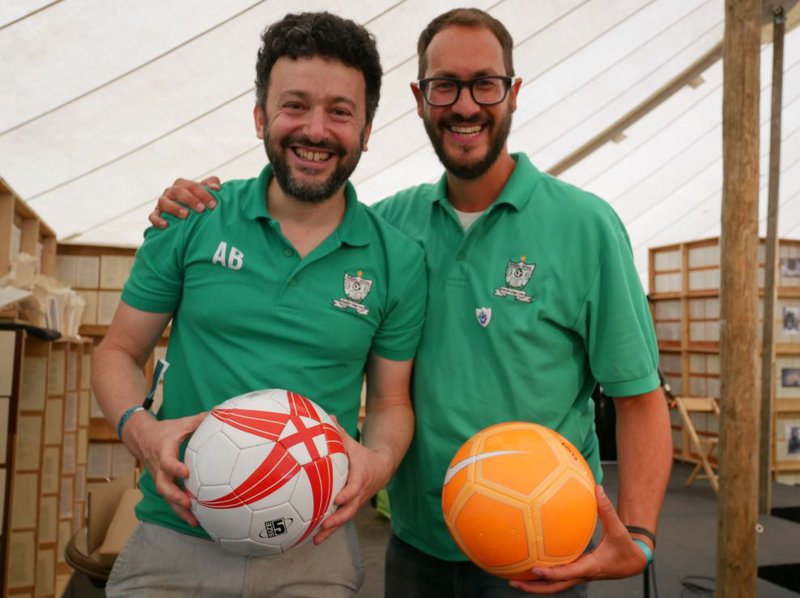 Authors Alex Bellos and Ben Lyttleton are both really passionate about getting kids into reading through their love of sport and have been part of fantastic sport and literacy events with our charity.
Their book Football School: 20 Fantastic Football Stories is part of this year's World Book Day titles.
They'll both be taking on a 10k run around their local areas while dressed as Where's Wally? and have recorded a fun video message ahead of the weekend to encourage people, young and old, to sign up to the fun run and join them in raising money.
Alex Bellos, author, documentary presenter and puzzle columnist for the Guardian, said:
"Having taken part in some really fun sport and literacy activities with the National Literacy Trust, I can't wait for the Where's Wally? weekender and to wear Wally's iconic red and white stripes with pride! It's a great way to do something fun and physical while celebrating the magic of reading and supporting a great cause. I wouldn't be where I am today without a love of reading, it's such an important skill for all aspects of your life, but it is also supports wellbeing, which at a time like this is so important. Sign up today and encourage your friends and families to get involved too!"
Ben Lyttleton, author, football journalist and consultant, said:
"I'm really excited to be gearing up for this challenge. While it's going to be really fun and I love dressing up, I'm delighted that every step I take in Wally's shoes will help lots of children on their way to brighter futures. The National Literacy Trust does so much to provide reading and writing support to those who need it most- and in creative ways! I have loved working with them on sport and literacy programmes which help reluctant readers get into reading through sport. So what are you waiting for, register today and join us in this brilliant event!"
Join the warm up with Jamie Knight
For those raring to go on the morning of Saturday 20 March, the virtual event will officially kick off with a heart-pumping 15 minute Facebook Live warm up from world renowned football freestyler Jamie Knight which participants can tune into at 10am on Saturday 20 March. However, runners are free to begin their routes at whatever time suits them over the weekend.
Team award
Along with a brilliant team from Walker Books, other teams will virtually compete in the race to win the fastest team award and raise the most money. Each winning team will get a box of books which includes a full set of the Football School series to gift to their local school, kindly sponsored by Walker Books.
We look forward to seeing your photos on social media! Don't forget to tag @Literacy_Trust!
Event: Where's Wally? weekender!
Date: Saturday 20 March – Sunday 21 March 2021
Time: Warm up with Jamie Knight via Facebook Live at 10am on Saturday 20 March
Venue: Your local area
Length: 5k, 10k or 1k for under 12s
Price: Early bird prices £13 per child and £18 per adult ends 5 Feb (after that £15 and £20)
To register: literacytrust.org.uk/WheresWally