After months of bake sales, pub quizzes, book sales, Christmas wrapping, knitting, painting and badgering our friends and families for sponsorship, the day had finally come, we (the Ice Girls, an homage to the Spice Girls) were off to the Arctic!
Day one: getting to the Arctic
By the time we landed in Kiruna, Sweden we were joined by the three other participating teams Best in Snow (from our Manchester Committee) Frankenstein's Creatures (from Hachette Children's) and Napapijri Ninjas (individuals) and were swiftly kitted out with winter boots and overalls in preparation for the one and a half hour dog sled we were about to do to get to the lodge that would be home for the next two days.
The minute we stepped out to start harnessing the huskies to the sledges, they went absolutely nuts with excitement. After a quick safety briefing from our guide Eric (a rather stoic, hardy Belgian man), it was now our responsibility to harness our own dogs to our sledges by head torch and get ready to go. It's safe to say we were all feeling a bit nervous at this point.
You quickly got used to the movement and speed of the dogs, which took a lot of abdominal control as you sped along the forest tracks. The bright moonlight filtered through the trees, over the thick snow, and I remember thinking, "I'm in the Arctic… how beautiful is this!"
Once we reached the Wilderness Lodge, we were given our maps and check points that we would have to reach the following morning as part of the orienteering challenge and time to plan our routes. It took a few attempts to work out how to use the compass accurately, but we went to bed on a full stomach of reindeer stew feeling excited about our first official challenge in the morning.
Day two: let the games begin
We were to complete four out of the five time trialed tasks starting with orienteering on the second day. We woke up to a stunning sunrise over the snowy tracks outside and the Huskies stirring in their kennels. Bathroom facilities were outside, cold and required a head torch at all times. I'll say no more!

We set off with our map, compass and plan in hand. Being on foot really gave us the opportunity to soak in our surroundings in the daylight. This really was a dream-like landscape.
We had been warned that the check points would be tricky to find as many of the paths and roads would have been snowed over by now, so measuring our distance was crucial. Turns out we had a lot of wading through knee high snow to do to get to two of our check points, which was absolutely knackering!
The finish point was the frozen lake, where challenge two was waiting for us. Ice fishing. It was as simple as this – drill a hole in the ice, lower a tiny fishing rod in and wait to catch a fish. The reality was, nobody did. Thank goodness we weren't fishing for our supper!
A quick brew to warm up, and then we were back out in the snow for the dog sledding challenge. Having practised the night before, we were now against the clock. Stoic Eric's competitive streak kicked in, we harnessed the dogs like lightning and were off!
You may think this was an easy challenge, but my sledge managed to topple over twice and I had to fight with every muscle in my body to stand the sledge back up again and stamp on the brake as quickly as possible, before the dogs bolted off into the horizon. By the end of the 3-4 hour circuit, all extremities were throbbing with the cold and our eyelashes were totally frozen!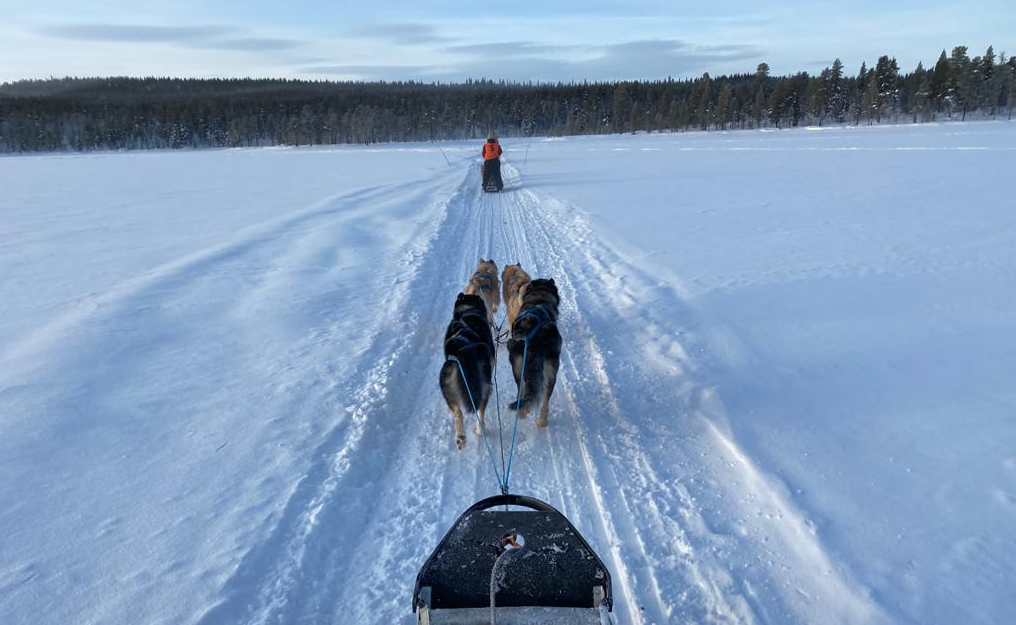 Then came the fire lighting challenge. After swimming (!) through waist-high snow to collect wood, we managed to get a little flame going, for a minute or two, but that quickly went out. It was so frustrating! We definitely wouldn't have sustained a night in the wild…
After a fun pub quiz, a wind-down in the sauna and a roll in the snow in our swimming costumes (you read it right!) we enjoyed a meal of reindeer meatballs and mash and went off to bed.
Day three: final challenge
First thing in the morning, we were kitted out with 1940s vintage Swedish skis and taught the basics of Nordic skiing. It's essentially a marching and gliding movement. You get the hang of it eventually!
We set off over the frozen lake, and got into a bit of a rhythm ploughing on, through the forests over both smooth and bumpy terrain, sliding up and down hills. Don't be fooled, we all fell over many times and have the bruises to prove it, but we were moving forward.
About two hours in, we hit a new frozen lake, the sky clouded over and the temperature dropped significantly. This leg was the hardest part, the sheer white was disorientating and all sense of time and distance went out the window.
At the half way point, some people decided they wanted to finish the route on foot, as various injuries were starting to play up. For me, I wanted to try and finish the race on these huge, unruly wooden skis, so we pushed on. The last time I was on skis I ended up in hospital, so this was a big deal for me and a barrier I wanted to break through, and my amazing teammates supported me the whole way. The last leg was all uphill. We were tired, hungry, cold and it was getting dark, so it took all our energy to get to the finish line.
When we crossed that line, all the pain melted away for a second and we just held onto each other in celebration. We had done it. The Arctic Challenge was complete.
Still buzzing from the day, we headed off to the Ice Hotel to celebrate. We were met with spectacular fair-ground themed ice sculptures and everyone enjoyed a well-deserved drink.
Although the Arctic Challenge was technically a competition, we weren't in it to win it, we were in it to finish it and just enjoy the experience. And we certainly did. We met some amazing new friends, faced our fears, pushed ourselves in an extremely unforgiving environment, and collectively we raised more than £32,500 (and counting!) for the National Literacy Trust.
I feel very privileged and proud to have been part of the Arctic Challenge 2020. If you're thinking about it next year, my advice is to just go for it. With a supportive bunch of people around you and the will to simply try, you can do anything.