Donate this Christmas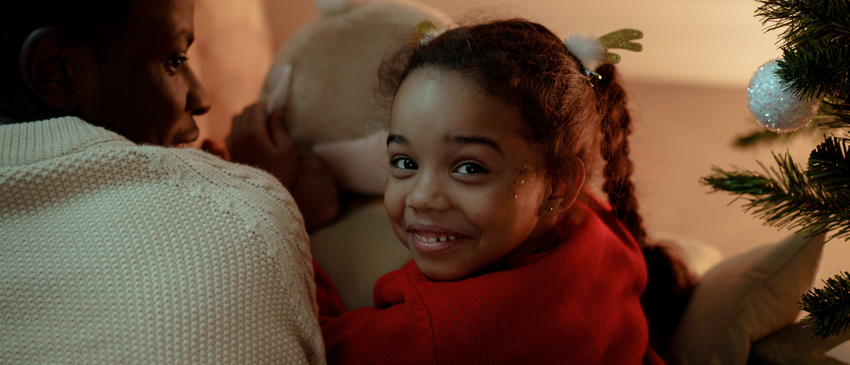 A book for Christmas opens a lifetime of possibilities
Our latest research shows that fewer children own a book than at any time in the last five years, and that almost a million children in the UK don't have any books of their own at home. This is truly shocking.
Donate
A child without a book is a less confident reader.

Children who struggle with reading and literacy can get behind in lessons and are more likely to do worse at school.

As they get older, this same child is less likely to get good qualifications, or a good job when they leave school.
Open up a lifetime of possibilities
Your generous donation could help us get books to children who need them the most. It can pay for us to go into more schools, libraries, community centres and other places in the UK's most disadvantaged communities.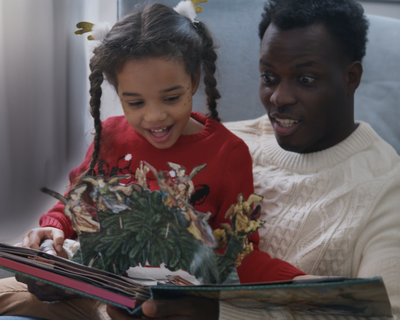 Donate
At the National Literacy Trust, we know the power of reading for pleasure. In a book, children can discover new worlds, meet new people and learn about the past. It can spark their imaginations and even help them develop empathy.
But don't take our word for it...
Jamie teaches at a village primary school near Swansea in south Wales, and has been involved with one of our programmes for young readers. He's seen first-hand the huge difference that having a book can make to a child's life:
"One of the pupils who took part in the programme was unfortunately taken into care just a few weeks later. Other than some clothes, the only other thing he took with him was a book. He'd already read the book cover to cover, but it had such an impact on him that he didn't want to leave it behind."
A book can signify escape and gives a child solace, and permission to find a quiet place where they can read a book which they can call their own. Having discovered an enjoyment of reading, one child approached Jamie to ask if he could take a second book home for his younger sibling for them to share the experience together.
Donate
What your money can do
£10.00 could provide a disadvantaged child with their very first book.
£25.00 could help fund family literacy packs for parents with children on neo-natal wards, helping them to bond with their babies through reading.
£50.00 could help train a volunteer to work with parents with low literacy levels and give them the skills to help develop their child's literacy and communication skills.
£100.00 or more could contribute towards a National Literacy Trust Hub, which will create long-term change in areas of the UK where low levels of literacy are entrenched and intergenerational.
Christmas is a time for family and sharing stories. Your support could give a child a book this Christmas and help them open up a lifetime of possibilities.
The future is not yet written for these children and almost a million like them.
Donate