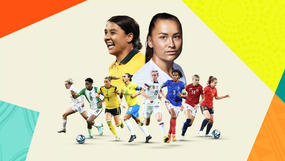 Fantastic football and book prizes to be won!
The FIFA Women's World Cup 2023 will kick off in New Zealand and Australia on 20 July 2023.
As with the UEFA Women's EURO 2022 we will be working with The FA to provide content and a live event. Resources suitable for Key Stages 1, 2 & 3 will be available to download for free, all for use on the build up to the tournament kick off.
These comprise:
A FIFA Women's World Cup 2023 reading challenge
A free live event
Here's a bit more about the fun literacy activities which you can engage your class in, and get them excited about reading through their love of football.
A live event with top authors and a Lioness
'The Great FIFA World Cup 2023 Reading Challenge' free online event took place on Thursday 20 July 2023, featuring top baller authors, and Lioness Leah Williamson. Suitable for Key Stages 2 & 3.
Watch the event
Our FIFA Women's World Cup 2023 Reading Challenge wallchart
Building on the success of our UEFA Women's EURO 2022 Reading Challenge we are thrilled to present a new reading challenge in the form of a wallchart reflecting the 2023 tournament fixtures. Pupils should be encouraged to choose, or be allocated through a traditional football draw, a text which they will 'play' in book matches against other pupils' texts. The challenge is to see which text will make it through the tournament stages to be crowned World Champions!
You can now download the poster (provided in 2 x A3 sections to enable you to print this off at school) and a guide on how to run the challenge, along with recommended reading lists for Key Stages 1, 2 and 3. These resources have been created by the National Literacy Trust for The FA.
A fun certificate is also available to download from this page which all pupils can take home to celebrate their involvement.
Gamechangers #Letgirlsplay
We're supporting The FA's mission to get more girls' football in schools. You can get your girls involved for free!
Check out the FA's free FIFA Women's World Cup schools resources. Based on the themes of learn, play and support, you will find curriculum linked resources for Key Stage 2 and Key Stage 3 aged pupils focussed on introducing the tournament and the Lionesses, challenging stereotypes (PSHE), and the history of women's football. You can also run a World Cup themed football festival using the simple football festival guide.
Sign up to support #LetGirlsPlay and access more great resources, programmes and CPD opportunities.
---

National Literacy Trust Reading Champions is supported by ALCS.
Explore useful teaching resources developed by ALCS to support understanding and communication about copyright with guides for children, young people and teachers. Watch this ALCS animation as a great starting point to helping your students understand copyright in a fun and interactive way.
Find out more about the National Reading Champions Quiz and Challenges.
Download files
You might also be interested in