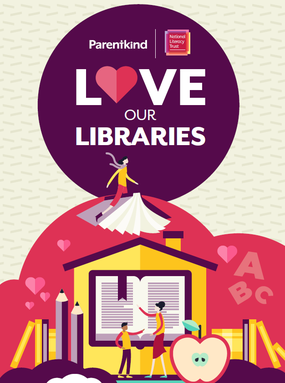 Working in partnership with Parentkind we are thrilled to bring you this complete guide to fundraising for your school library. We know the important role parents play in fundraising for their school and have designed this pack to support parents and schools to work together to improve their library spaces and encourage a reading culture across the whole-school community.
Inside, you'll find everything you need in order to plan and run successful fundraising activities for your school library, whether you're in a primary or secondary school.
What's in the pack?
Key facts aboout the impact of libraries on the learning and wellbeing of the young people in your school
A bank of fundraising ideas
A calendar of literacy theme dates across the year
Ideas for how best to invest your funds – books and beyond
Top tips from a successful PTA library bus project
Why school libraries?
At the National Literacy Trust we are passionate about school libraries and their role in inspiring a love of reading and improving literacy. Research shows that when children read for pleasure they get better grades at school, show more empathy towards others and report higher levels of wellbeing.
Many children don't have access to the magic of books at home or at school. This is why, in November 2021, we launched our Primary School Library Alliance to shine a light on the importance of school library provision.
Download file