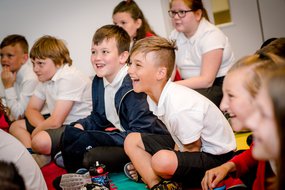 This primary resource has been designed for you to use with a whole-staff group. It provides examples of how to use a high-quality text with engaging oracy techniques and activities to develop and deepen reading comprehension across the school.
One of the best strategies for developing reading comprehension is to sit oracy at the heart of practice. While underpinning teaching and learning with oracy, we can, with a few tweaks, ensure that we are both strengthening comprehension strategies and explicitly enhancing oracy skills at the same time.
You can use this workshop with a whole staff group to exemplify many of the strategies and techniques that can be drawn on to develop key areas of the curriculum. Based around The Squirrels who Squabbled by Rachel Bright and Jim Field, it also illustrates the planning process for using a high-quality text at the heart of our teaching of reading for meaning.
The resource includes
A PowerPoint presentation for easy use and support in disseminating an oracy-based approach to developing reading comprehension
A set of guidance notes for literacy leads covering how to deliver the workshop and encourage development in this area
An example non-fiction text to support the dictogloss activity
National curriculum links
The reading and oracy workshop is aligned to the spoken language objectives and expectations of the national curriculum for England. You can easily extend or simplify the strategies outlined to meet the needs of pupils of all ages - the workshop is designed to demonstrate the process rather than provide content for any year group in particular.
Download files