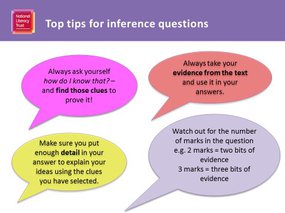 This resource prepares Year 6 pupils for the Key Stage 2 National Curriculum Assessment reading paper. It is designed to be used flexibly - as a refresher for teachers planning their revision or directly as a revision tool with pupils.
It can be used with the whole class, in small groups or even as a revision booklet that pupils can take home and share with their parents or carers.
It gives pupils top tips and guidance on the three main domains tested – word meaning, retrieval and inference and is updated each year to ensure challenges, trends and changes in question types from previous papers are explicitly noted.
Plesae note that as the tests did not take place in 2020 or 2021 the data in the guidance is drawn from the 2019 tests.
Year 6 Sats reading paper top tips PowerPoint
A PowerPoint presentation to ensure your pupils are fully prepared for the types of questions that will be asked in the reading paper and the skills they need to answer them effectively. Topics covered include:
lessons from the 2019 paper
easy to use effective strategies
familiarisation of common question stems
top tips and examples
Write your own question templates
Five templates are provided to give pupils fun ways to familiarise themselves with different question types by writing their own questions and challenging their peers. Downloadable templates include:
Write your own fact or opinion question template
Write your own matching question example
Write your own matching question template
Write your own true/false question template
Write your own word question template
---
See more resources for Year 6 pupils.
Download files