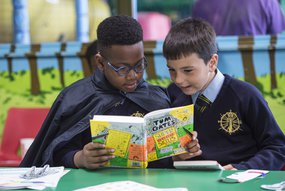 Review and develop the teaching of reading comprehension across the school with a downloadable PowerPoint presentation aimed at primary practitioners.
Who is this for and how can I use it?
This resource has been designed for primary literacy leaders to use within staff meetings and INSET days.
A PowerPoint presentation which looks at strategies for explicitly teaching reading comprehension and developing the lifelong skills needed to become effective readers.
A list of top ten essential reads for teachers interested in further exploring reading for meaning.
An overview of national curriculum coverage for reading comprehension for Key Stages 1 and 2.
You might also find it useful to use this alongside our teaching reading resource which provides information about the different types of reading and activities which help children to develop these reading skills. It also includes a staff audit which encourages teachers to reflect on their own practice in relation to teaching reading for meaning.
Download files
You might also be interested in