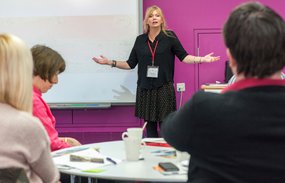 Thank you for participating in our Reading for Pleasure CPD. Here we have provided downloadable copies of key handouts and presentations to support the training sessions attended.
To prepare for training, you could start to think about the sort of pupil group you would like to focus on. If you aren't sure yet, don't worry: guidance and advice will be given at the sessions. We also ask that all attendees think in advance of a book you couldn't put down (a young person's or adult's book, either is great) and a book that you'd recommend for the whole class to enjoy.
Armed with the new knowledge you've gained from initial sessions, you will need to select a text you would like to use. You should also plan and teach a teaching sequence, drawing on the Reading for Pleasure resource to support you.
You will need to come to following sessions ready to talk about the strategies you have put into place - and the impact on engagement and achievement. Please be prepared to share any images, video interviews or resources others would find helpful to illustrate your findings. You can use the presentation format as a guide but be as creative as you like!
If you have any questions on any of the above or require any guidance during your project please email schools@literacytrust.org.uk or call us on 020 7587 3067.
Download files
You might also be interested in