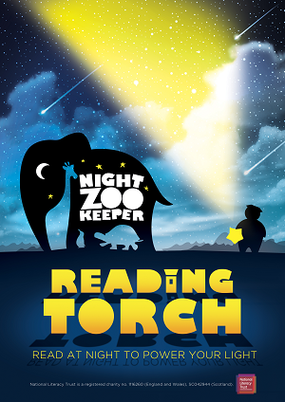 Boost children's reading with this imaginative reading challenge based on the Night Zookeeper story.  Suitable for Key Stage 1 and 2 pupils, children take on the role of Night Zookeepers embarking on their after-hours rounds of the Night Zoo. 
The challenge centres around a special reading torch. In order to visit all their magical animal friends, children need to power up their special torch to full beam to guide them along their way. 
Every 15 minutes children spend reading gives them another 10,000 watts of torch power to help them through their rounds of the zoo. The goal is to reach 360,000 reading watts (nine hours) in total. 
Along the way they encounter wonderful creatures such as the Time-travelling Elephant and the Spying Giraffe!
The following resources are available for download:
• A reading torch power manual where pupils log their reading progress
• A certificate for pupils who complete the challenge
• A class poster to promote the challenge
• A template for pupils to make their own Reading Torch bookmark
• Animal facts and activities that can be used to reward pupils when they reach the 'animal beams' in their reading journey
• Classroom resources that complement the reading challenge including:
o Planning a Night Zookeeper story
o Writing a Night Zookeeper story
o Creating a magical animal
o Night Zookeeper adjectives
These resources were created in partnership with Night Zookeeper for a competition we ran in 2013. 
Download files
You might also be interested in