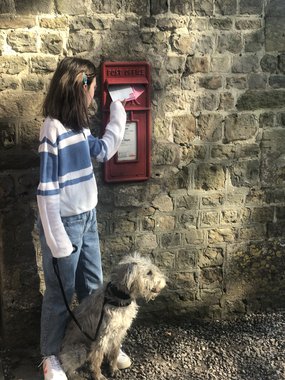 Through the My Dear New Friend project we are encouraging children to exchange letters with older adults in care homes to increase the children's motivation to write and to help combat loneliness among older adults. To support you with this we have developed templates and guidance to help you run the project in school, find a care home partner and develop pupils' skills for letter writing.
You are welcome to run the project independently, using our guidance and building connections in your own local area.
Alternatively, we still have a few spaces remaining on our funded My Dear New Friend project, where we will partner you with a care home and send you letter writing materials for a class. You can express interest by emailing us mydearnewfriend@literacytrust.org.uk
Resources
We have provided resources and tools that you can download from this page to help you introduce the activity:
an introductory letter from the founder of this initiative, Alice Irwin
a letter template and writing prompts for pupils
letter writing paper for pupils
an editable cover letter to your local care home manager.
Listening games for letter writing
In addition we have developed a set of listening games for letter writing to help pupils learn question and answer skills. The resources will work with Key Stage 1 children, and include defined learning outcomes as well as fun activities that will support classroom oracy. The activities cover:
Hooray Boo! - identifying the difference between statements and questions
Open or closed - examining question types
Questions for a friend - how questions help us communicate
Let me introduce myself - sharing information to connect with others. Includes a speech bubble activity.
Writing engaging letters - the structure of letters, and how to use the skills learned through these listening games to write great letters.
Important note: For the purposes of safeguarding, please ensure that children do not include any personal details in their letter, such as their surname, home address or phone number. We suggest that all letters just include pupils' first name and the school address and would encourage care homes to do the same.
Find a care home partner
You can search for local registered care homes on the CQC's website.
---
Model letters and letter writing resources
If your pupils need additional support with letter writing, there are some excellent models on an incredible range of topics at lettersofnote.com. Some of our favourite child-friendly examples include:
You might also like to explore further letter writing resources such as:
TES teacher information pack for classrooms to care homes
Usborne's The Train to Impossible Places guide to letter writing
Get parents involved
We originally launched this activity during lockdown and it was our most popular activity among parents. You could set letter writing as a holiday homework or blended learning activity using this link for parents.
---
Tell us about your new friendships
Please share examples of the letters your pupils write and any photos showing how the new friendships develop with us:
On Twitter and/or Instagram: @Literacy_Trust #MyDearNewFriend
By email: MyDearNewFriend@literacytrust.org.uk confirming permission for us to use the image on social media, our website or in communications to our funders.

We look forward to hearing about your new friendships.
Download files
You might also be interested in