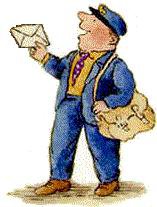 Janet and Allan Ahlberg's popular story of The Jolly Postman is brought to life in these imaginative learning resources for early years, Key Stage 1 and Key Stage 2, created with The Postal Museum.
The resource
The Jolly Postman learning resource provides activities to bring literacy learning to life in the classroom, making links between the fictional narrative of The Jolly Postman and the real history of the postal service.
The resource is structured around five themes:
About The Jolly Postman books - a background to the series
Addressed and stamped - writing and sending letters
A day in the life of a postie - mapping delivery routes and interviewing postmen
Tricky situations - thinking about transport types and the dangers of the job
Clothes for the job - discussing weather and designing a uniform
Each theme includes:
Teachers' notes
Activity ideas
Activity templates
Interactive PowerPoints
Links to the national curriculum
Every activity is clearly linked to the national curriculum for the Early Years Foundation Stage (EYFS) and for Key Stage 1 and 2, supporting learning across the curriculum. The literacy activities develop confidence with reading and writing, introduce new vocabulary, storytelling, role play and drama, and can be differentiated for key stages and learning styles.
"The resource is widely-referenced and well-thought out. I was impressed with how engaged the children were by the history of the post. They were very inspired to write their own letters."

A Year 1 primary school teacher in Camden
Download file
You might also be interested in