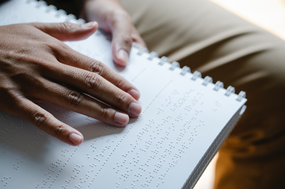 World Braille Day is celebrated on 4 January every year to commemorate the birth of Louis Braille. At the age of five, Louis was injured in an accident in his father's workshop and, as a result of this, lost his sight. Supported by his family, he continued to learn by making use of his other senses, and at the age of 10 he moved to the Royal Institute for Blind Youth in Paris. As he continued his studies, he was frustrated by his inability to access books as he wanted to learn like others. When he was introduced to a clever but complex system of "night writing", involving raised dots and dashes and invented by Captain Charles Barbier for military personnel to use to read messages at night, he worked to refine it to become a tactile system which would be easier to learn and use. These session plans use the book Six Dots: A Story of Young Louis Braille by Jen Bryant and Boris Kulikov.
Before you begin, you may wish to explore Louis Braille and the invention of braille further. You can find more information at RNIB
Aims
To teach children about Louis Braille and his motivation to create a system which would make reading more easily accessible for blind and visually impaired people.
To introduce the concept of Braille – the tactile method of reading devised by Louis Braille – through a story book and discussion.
To explore a variety of resources that can make stories more inclusive.
To help children consider how we can strive to make our communities accommodate and embrace the needs of everyone.
Curriculum links
These sessions plans link to the EYFS curriculum in the areas of personal, social and emotional development, communication and language, literacy, and understanding the world.
Download file
You might also be interested in