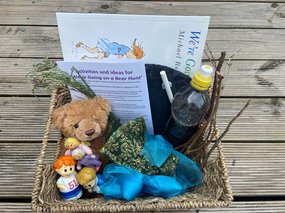 What is a story sack?
A story sack is a collection of items in a bag or container that can be used to support and extend the telling of a story.
Why are story sacks useful?
Story sacks have the power to ignite children's imaginations. They can make stories more accessible to everyone, including children for whom English is not their first language, and children with additional needs or disabilities.
You could create a library of story sacks in your setting which can be used with small and large groups or could be sent home to support parents and carers.
Using story sacks in your early years setting will:
Encourage interactions and communication
Enhance children's vocabulary and language
Support children with their own storytelling and role play
Story sack guide
Download the guide and instructions from the available files list on this page to access:
Guidance on how to make and use story sacks, and the benefits of them.
Instructions and ideas to make story sacks based on My Pet Star, The Three Little Pigs,We're Going on a Bear Hunt and The Suitcase.

---
Explore more brilliant resources for early years settings
Download files