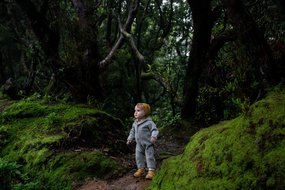 This one-off session plan aimed at 0-2 year olds, links with the Early Words Together programme and is developed to celebrate a favourite story while enjoying the many benefits of exploring, chatting and playing outside. You may not have your own 'deep dark wood' to stroll through, but the session can be adapted for any outdoor environment available, whether it is a childminder's garden, a preschool's outdoor space or a local park, children will enjoy exploring, discovering and experiencing the natural world.
Being outdoors is beneficial to children's language development as communication is prompted by new and sensory experiences. Spending time in nature also leads to improvements in mental health and well-being for both children and adults.
Aims of the session
To celebrate and share a favourite book
To share language-enriching activities based on chatting, playing and sensory exploration outside
To explore the hidden worlds within the story
Guidance for running the session
Wear weather appropriate clothing. Even if it is rainy or cold, you can still enjoy this activity if comfortably dressed
Risk assess your outdoor space, garden, park or wood for safety. Remove rubbish and identify areas where care or attention is needed, such as areas with brambles or blackthorn bushes, or where spring bulbs are growing
Encourage children to replace turned over stones or logs when you leave, to protect and preserve living habitats
Ensure everyone washes their hands when returning indoors
Resource
This session plan is based on the principles of Forest School, and has been created by an experienced level 3 Forest School leader. For further information see The Forest School Association and you may be interested in the Nature Premium campaign calling for regular nature experiences for every child.
Download file
You might also be interested in