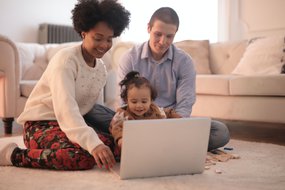 Early Words Together helps parents to support their young child's literacy and language development.
When sessions cannot be run in person, you can support young children at home by using these plans to deliver short, interactive online family activities based on Early Words Together. Families can still be selected in the same way as you would for Early Words Together and they can be invited to attend a digital session. A variety of closed digital platforms.can be used, such as broadcasting on Facebook Live to a closed group, using a video conferencing tool like Zoom or Microsoft Teams, or posting videos on an online learning journal observation.
Aims of the sessions
To build your online relationship with parents.
To share language-enriching activity ideas focused on chatting, singing, playing and mark-making with both children and parents.
To build parents' confidence in supporting their child's development at home.
Guidance for running sessions
Review the plans we have provided in advance, make any necessary tweaks and gather resources that you will need (these don't have to match ours).
Notify families of the dates and times of sessions in advance.
Ensure you are running sessions on a closed or private channel and that you check copyright and permissions before using a copyrighted book.
During the sessions, encourage parents to stay with their child and do the activities together. Focus on sharing simple ways parents can do these same activities at home with their child after the session.
If you are streaming live, ask another colleague to join from their home as a participant of the session. They can post useful links and comments for families in the chat box.
Either bi-weekly, or after running three or four sessions, post a link to the survey below for parents to complete at the end of the session
These sessions can be used alongside the Time Together booklet, which is a colourful and easy-to-read guide that is full of suggestions for how parents can support their young child's learning at home. It has been translated into a wide range of different languages for you to share with the multilingual families in your setting or community.
Download files
You might also be interested in