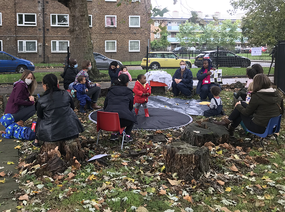 Resources
These easy-to-deliver early years sessions are aimed at children aged two to five but can be adapted for other ages.
They focus on the benefits of running sessions outside, including:
Spending time in nature leading to improvements in mental health and emotional regulation
Play in natural environments leading to improvements in motor fitness for pre-school children
Communication and language development prompted by the children's sensory experiences
Session plans can be downloaded from the available files section of this page, and we've added an explore the outdoors book list to support these activities and inspire more fun outdoor learning.
---
More outdoor resources
These resources are based on our Early Words Together at Two Outdoors programme which is centered on forest school principles, and has been created in consultation with an experienced level 3 forest school leader. To find out more about Early Words Together visit the Early Words Together programme resources page or contact EWT@literacytrust.org.uk with any questions you have about the programme or resources.
Download files
You might also be interested in