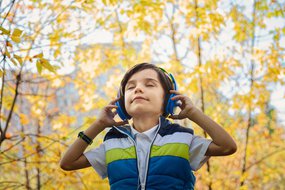 Following the launch of our Audiobooks and literacy evidence review, we have created resources to help teachers and parents make the most of audiobooks to support children's literacy in the classroom and at home.
Audiobooks can be the key to unlocking a child's love of reading, with exciting voices and sound effects bringing stories to life.
For schools
There are huge rewards to be found by listening to audiobooks in the classroom, particularly for reluctant or struggling readers.
Not only can students access stories that may be beyond their reading level, but they can hear them in a range of exciting voices and accents, and understand expressions and nuances not always clear from printed books.
For families
You can listen to audiobooks almost anytime and anywhere as a family – whether you're in the car or the kitchen, during bath time or bedtime. In the days of tablets, smartphones and smart speakers, listening to digital stories is easier than ever before.
Available to download
Top tips for using audiobooks in the classroom
Top tips for sharing audiobooks as a family
Find out more about our audio and literacy resources and programmes.
Download files