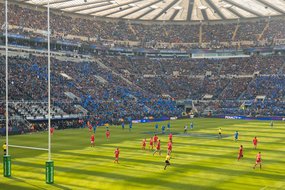 The Six Nations Championship is a rugby union tournament played annually between England, France, Ireland, Italy, Scotland and Wales.
The early rounds of matches were played in February and March, although the tournament then had to be put on hold due to Covid-19. Matches resume on 24 October, with the dramatic final scheduled for 31 October. The team with the most points after all 15 matches have been played wins the tournament.
This hot topic resource can be used to build on children's interest in the Six Nations tournament to engage them in reading, writing and speaking activities. Suggestions can be adapted for pupils aged 7-14 across England, Wales and Scotland.
Using this resource in the classroom
The Six Nations offers a number of engaging and interactive opportunities to promote learning and literacy. This hot topic resource:
Recommends relevant age appropriate books to support reading skills. These books can be used as the basis of literacy lessons, for reading activities, as part of daily story time or as recommendations for further independent reading.
Gives students the opportunity to express their opinion through oracy activities, including debates on which team pupils think will win the tournament and discussions on the Women's Six Nations
Suggests engaging research activities for students to find out about and write up pieces including team and match reports
Includes a great set of activities written by children's author Tom Palmer including video ref book reviewing, a rugby buddies scheme and a rugby-themed pass the book game
Also features other sports-related literacy programmes and activities to keep the students engaged long after the Six Nations finishes.
Download file
You might also be interested in