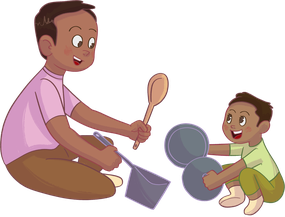 Babies and toddlers communicate long before they start to talk, through smiles, gestures, showing and giving objects, pointing and vocalising. Early years practitioners play an important role in developing these communication foundations in their everyday interactions with the under twos in their care. Parents may also need support to recognise their baby as a communicator and understand their role in making the most of opportunities for communication exchanges during their day.
Poster
Download this free colourful poster to display in your setting to promote these five top tips for supporting a toddler's communication development before they start to talk.
Top tips
Be face to face with your child
Watch and wait: let your child lead and then join in
Wait – give your child time to respond
Talk about what your child does
Watch how your child tells you things and put the words in
Interacting through sharing books from when babies are very young is a fantastic way to support their communication development. Talking about the pictures in the book, relating the story to the child's everyday experiences, and letting the child hear spoken words with varying rhyme and rhythm all help to build their understanding of language.
Share with parents the importance of looking at books together with their baby. There are a wide range of books for under twos that you may have in your setting and can encourage parents to share with their baby, such as touch and feel books, black and white books, books with sound, or lift the flap books.
Remember the five top tips when sharing books with babies and toddlers, as well as during other everyday activities and interactions.
These five top tips are taken from our early years programme, First Words Together. Find out more here: First Words Together resources
Download file
You might also be interested in