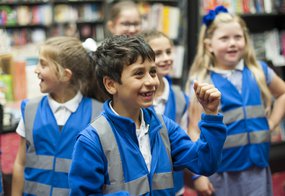 Comedy improvisation is an excellent way to improve children's speaking and listening skills, build their confidence, develop their creativity and proactivity, and get them working together as a team.
It also serves as a great hook to engage harder to reach children and as a safe space to encourage quieter children to come out of their shell.
These comedy improvisations will be ideal to link with Comic Relief's Red Nose Day but can also be used throughout the year to get pupils aged 7 to 11 working together to make up comedy scenes on the spot, whilst they develop their speaking and listening skills.
This resource includes
An introduction to improvisation
Improv games to play in the classroom
Ideas for performance and to inspire writing
Further resources to explore
Download file
You might also be interested in