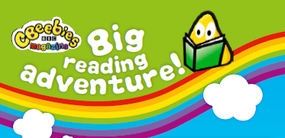 All the resources you need to deliver a reading-themed week centred around five of CBeebies' most popular characters. There are five stories and activities suitable for pupils aged three to seven. Pupils can record their progress on their own achievement chart and be rewarded with a certificate when they have completed all the stories and activities. 

The following resources are available to download:

• Five stories and accompanying activities (provided in one zip folder) featuring Octonauts, Tree Fu Tom, Peter Rabbit and Friends, Swashbuckle and Sarah & Duck
• A poster showing CBeebies Land with an overview of the characters and activities
• An achievement chart for pupils to record the stories they read and the activities they complete. Includes stickers that can be cut out and glued onto the chart
• A certificate for pupils who complete all stories and activities
• Extension activities for older and higher ability children.

These resources were produced in partnership with CBeebies Magazine for a competition we ran in 2013. 
Download files
You might also be interested in