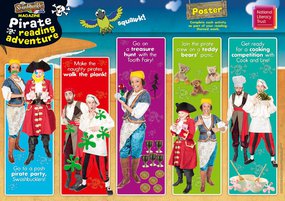 Deliver an exciting reading-themed week for Early Years and Key Stage 1 with five stories and activities centred on the Swashbuckle story. 
The stories are perfect for projecting on to an interactive whiteboard for lots of audience participation. Pupils will enjoy marking off their progress on their own achievement chart. All pupils are rewarded with a certificate once they have completed them all.  
The following resources are available to download:
Five stories and accompanying activities featuring the Swashbuckle characters (provided in one zip file)

A poster outlining the five activities

An achievement chart for pupils

A certificate for pupils

Extension activities for older/more able pupils.

These resources were produced in partnership with Swashbuckle Magazine for a competition we ran in 2015. 
Download files
You might also be interested in