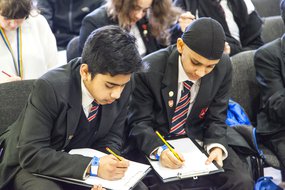 The transition from primary school to secondary is always a difficult time for students and lockdown has presented further challenges. To help teachers support students during this transition period, we've teamed up with Babcock LPD to create two free teaching sequences based on Katherine Rundell's The Book of Hopes. The book has been extremely popular with families throughout lockdown.
Intentions of the teaching sequences
For Year 6 returning to school in the summer:
To support Year 6 pupils with coming to terms with the disruption to their final year in primary school through both reading and writing
To provide an opportunity for the children to write according to their own personal preferences but within an overall theme of hope
To give Year 6 children a platform to celebrate and present their final pieces of writing to their wider community (all Year 6 pupils, their parents, the school community and possibly a wider audience), perhaps as part of their Year 6 Leavers' Celebration.
For new Year 7 students starting secondary education in the autumn:
To provide an accessible and reflective start to the KS3 curriculum in strange and uncertain times
To support Year 7 students to draw their KS2 grammar knowledge into their KS3 work
To provide a challenging Year 7 English experience built on some recognisable KS2 pedagogy.
You can download both teaching sequences for free in the side bar.
Download files
You might also be interested in